ZENF tokens can only be purchased through the Zenland official token website at https://token.zen.land
To claim your allocated tokens follow the steps below.
Step 1.
Go to https://token.zen.land and get to the bottom of the page – to the "Claim" form;
Step 2.
Click "Connect" to connect to Metamask.
Step 3.
Select a presale round and click "Claim". Note that this button remains the "Get Info" button until the vesting period starts.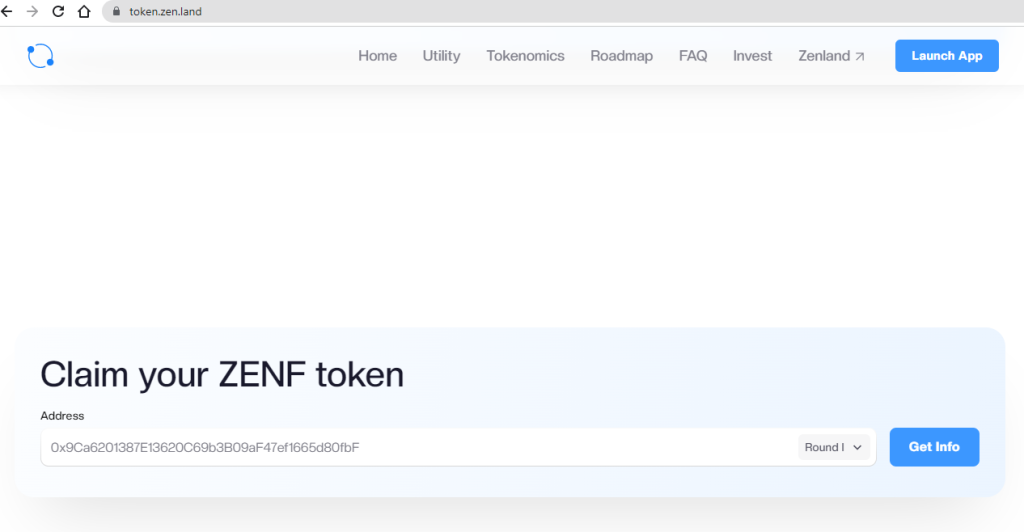 Quick info:
✓ ZENF token is the ERC-20 utility token of the Zenland escrow ecosystem bridged to BSC. 
✓ Minting address on Ethereum: 0xE9b7B5D5e8d2BCC78884F9F9099bfA42A9e5c1A5
✓ Bridging address on Binance Smart Chain: 0x382EC3F9F2E79b03abF0127f3Aa985B148cEf6d7
✓ Read Zenland whitepaper for details about the project.
Investors who purchased ZENF tokens on Round I and Round II Presale are able to claim their tokens once a 3-month cliff ends and a vesting period begins.
Keep in mind that the timelines are different for participants of both rounds.
✓ Round I investors can start claiming on July 1, 2023.
✓ Round II investors can start claiming on August 1, 2023.
Until then, investors can check their addresses in vesting contracts through the Claim Form on the official token page. Once the vesting period has started, presale investors will be able to claim tokens through the same form.
Vesting is a gradual release of the allocated token amount over 3 months time in equal amounts.
You can get more information on the cliff and vesting for ZENF token on the official page.