NFT trading has taken the world by storm, with digital art and collectibles selling for millions of dollars. This new form of ownership and value exchange is changing the way we view art and assets in the digital age.
There are now more NFT marketplaces than ever before, offering creators and collectors a plethora of options to buy, sell, and trade unique digital assets. But as each one is unique in its own right, not every platform is able to secure sustainable profits and ensure a safe and easy trading process.
Why use web3 escrow and marketplace for NFT trading?
Are you tired of the limitations and cons of popular NFT marketplaces like OpenSea and Rarible? While these platforms have their benefits, they also have their fair share of drawbacks. At OpenSea, you may struggle to stand out in the crowded marketplace without a substantial following on other social media platforms. And with Rarible, connecting your wallet and creating a wallet with the platform can be a complicated and frustrating process. Plus, both platforms charge fees on every successful NFT transaction, making it harder for you to earn what you deserve for your NFTs.
Luckily, Zenland offers a better solution for NFT trading. With Zenland's web3 escrow and marketplace, you can enjoy zero fees, fast transactions, and full control over your sales. You don't have to worry about standing out in a crowded marketplace, as Zenland's unique escrow model ensures that buyers and sellers can trade confidently without competing for attention.
Plus, Zenland's customer support team is always ready to assist you with any questions or concerns you may have, so you can focus on creating and selling your NFTs with ease. Say goodbye to the limitations of traditional NFT marketplaces and try out Zenland for your next NFT trade!
See how Zenland compares to popular NFT marketplaces in the table below.
Platform to buy/sell NFT and crypto artwork
Royalties and Fees
Special conditions
OpenSea
2.5% fee per sale +up to 10% royalty fee paid by the seller
NFT listing expires after 6 months (max)Sellers list NFTs against 80 million other NFTs
Canceling a listing or bid have gas fees
Blur
0% transaction fee +0.5% enforced creator royalties
Enforces royalties in full (can be set up to 50%) on secondary sales if the NFT is not delisted on OpenSea
Royalties are paid in $BLUR Airdrop
Binance NFT
1% transaction fee +1% creator royalty paid by the seller (0% to 10%)
Geared towards existing Binance users.Not available for users located in the U.S.
Rarible
2% transaction fee (by 1% from both buyer and seller)
Up to 50% creator royalty paid by the seller (!)
Users can make purchases with a credit card (but NFTs must be sent to a wallet).
Gem (rebranded as OpenSea Pro)
0% transaction fee +0.5% enforced creator royalties
Very much Blur clone with similar policies on proceeds.
Nifty Gateway
Depends on the Transaction version(v1 or v2)$0.30 fixed + 10% transaction +Up to 10% royalty fees (usually amounts to 15% of the listing price or less)
Users can buy NFT with USD. NFT proceeds are also paid in USD to the user's internal account Can be cashed out to a bank account.User accounts must be set up to receive any proceeds or royalties.
SuperRare
15% fee (on first a.k.a.a primary sale);
10% royalty paid by seller + 3% marketplace fee paid by the buyer (on all secondary sales)
Best fit for big-name creators.Requires an authentification process before NFT trading.
And what about Zenland you may wonder?
Zenland escrow contracts walkthrough [screenshots]
Now, as you know what the popular NFT marketplaces and their policies look like, it's time to turn your attention to Zenland.
With its low fees for both primary and secondary sales (1.75%), smart contract escrow protection, and direct payouts to ETH wallets, Zenland can be the only NFT marketplace you need.
The selling/buying process is described below 🙂
Step 1. Morty logs in with a Metamask wallet address (anonymous web3 login)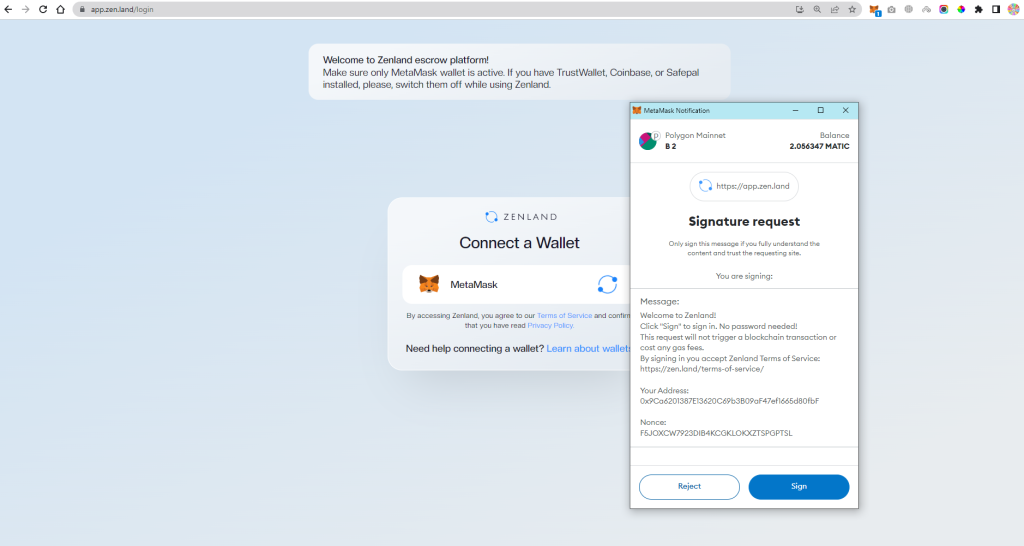 Unlike some of the NFT marketplaces that require you to install their own wallets before trading NFTs, Zenland supports non-custodial wallet login. No registration or password is required.
Step 2. Morty adds an item to the profile and sends the link to Anonymous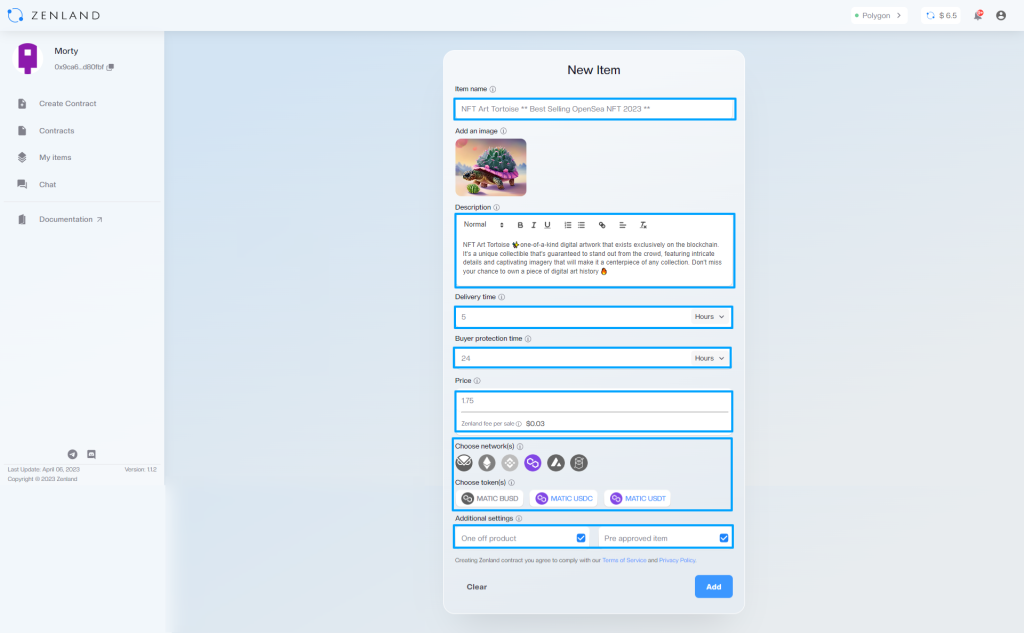 On Zenland any NFT owner can set up a web3 store to trade items at no additional cost. Sellers add NFT collections as items and their clients can view them on store profiles (both with and without logging in).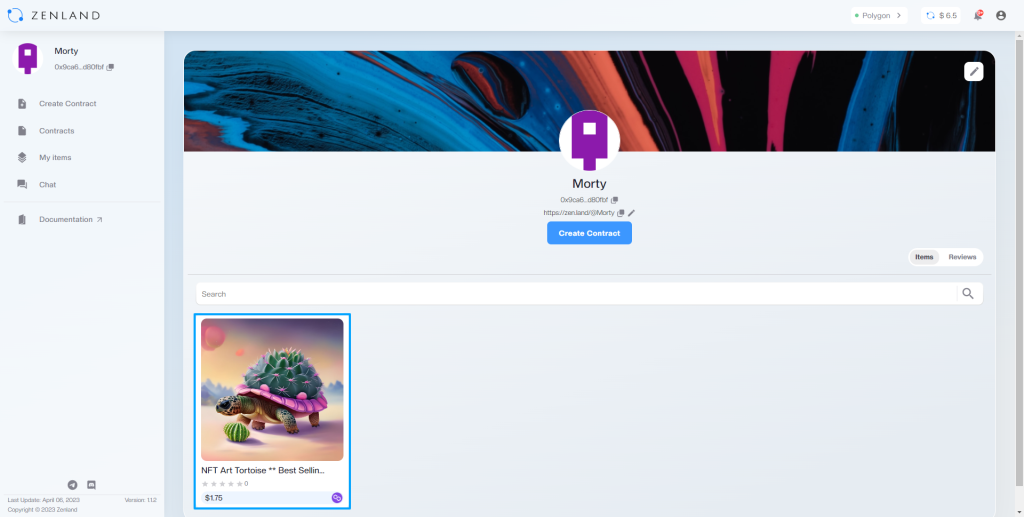 Sharing through social media accounts and forums gives clients access to items on sale.
Step 3. Anonymous selects the item and approves the terms of the purchase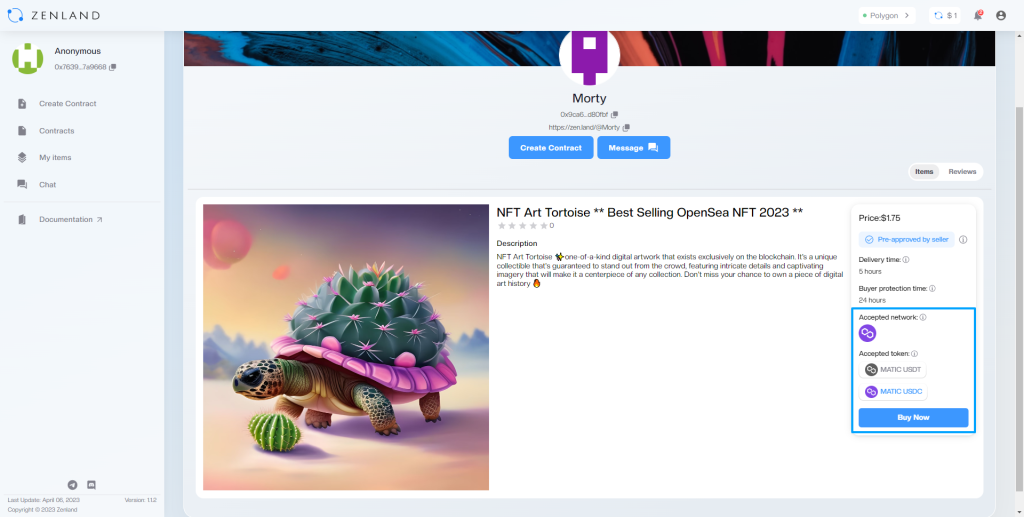 Once the seller sets the item as pre-approved (see the step on adding item), buyers can place orders to purchase it. They first must review and approve the terms described in the item contract (such as delivery time, quality of an item, buyer protection time, etc.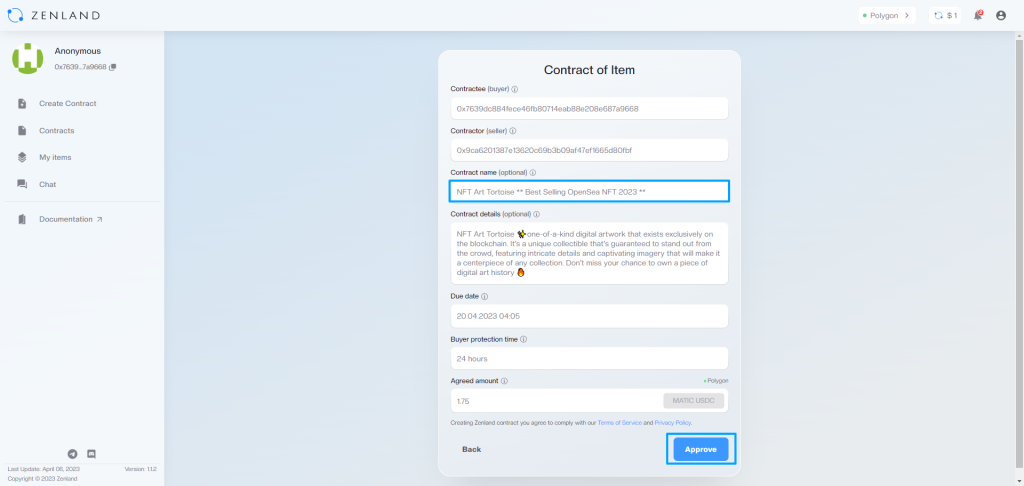 Step 4. Anonymous sends the contract to the blockchain and locks payment inside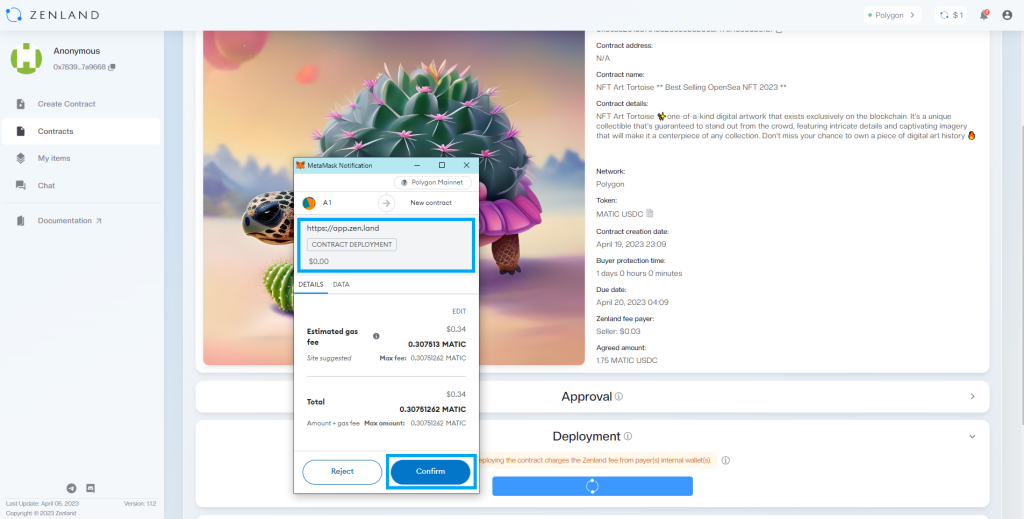 To confirm the order placement for a specific NFT or other crypto collectibles, the buyer sends the payment inside the smart contract so that the seller can see the payment deposit.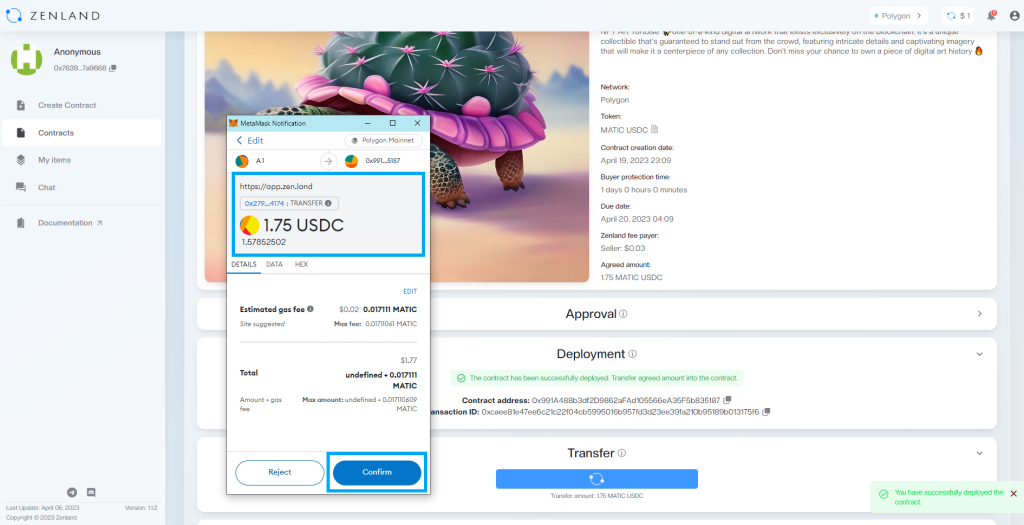 Step 5. Morty sends the skin to Bono and confirms the completion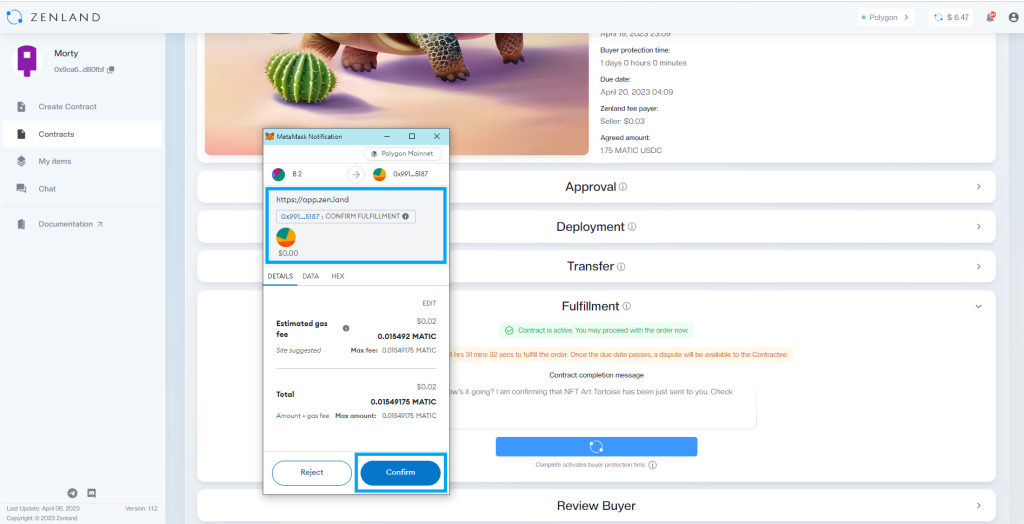 Seeing the payment inside, the seller transfers the NFT to the buyer's Metamask wallet. If you store NFT in crypto wallets other than Metamask you should first transfer it to your connected Metamask address.
The order is confirmed through the blockchain and the buyer is notified via the platform's notification system.
Step 6. Anonymous inspects and releases payment from the contract to Morty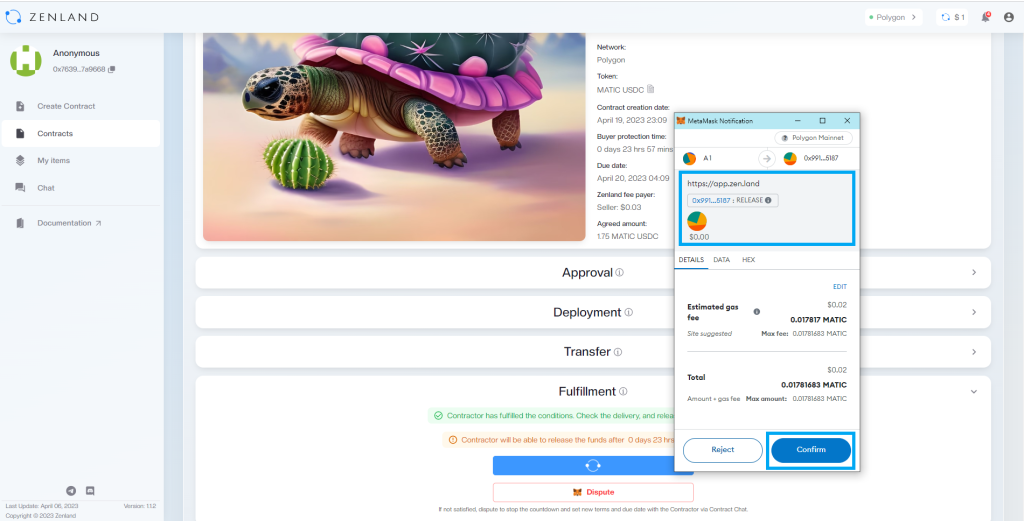 The buyer has time, known as buyer protection time to verify that the order is delivered on time and according to the seller's description. Also within this time frame the payment deposit is unlocked and sent to the seller's web3 wallet address.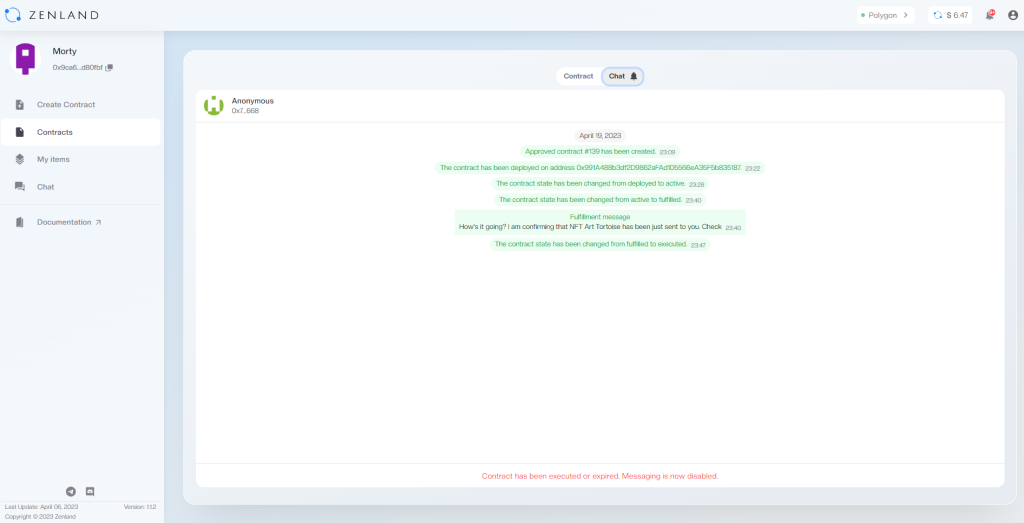 At any point before the release of payment, Morty and Anonymous can dispute their deal and negotiate anonymously via the Contract Chat.
Step 7. Morty and Anonymous rate and review each other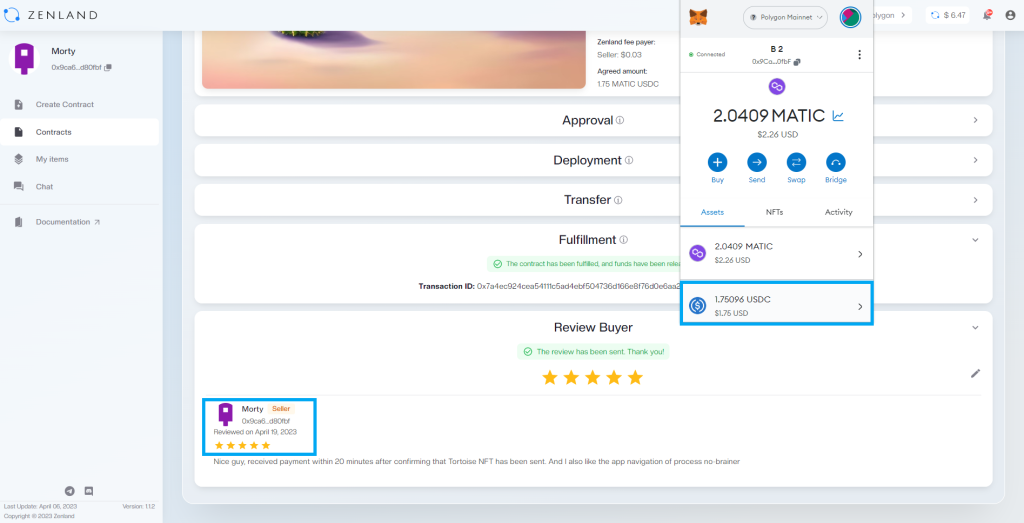 After the NFT trade both sides rate and review each other to help other users see if they want to buy or sell from a particular user.
Want to see for yourself?
Currently, we are giving $25 as a sign-up bonus to all new users. Once logged in you should see a $25 balance on your dashboard to fully cover the service fee for contracts worth $500 or less. All users (buyers & sellers) are welcome to try escrow smart contracts for their web3 shops.