If you are a hardcore video games fan chances are you have traded game skins for profit. You play well and sell well to buy more and boast new skins. Buy, rinse, repeat. While in general, all is GG (good game), your skin-trading game may not be worth it. After all, no matter how much cash is in your Steam wallet these funds can only be used internally, for games and assets sold on the Steam store or its community marketplace.
Why selling in-game assets has both sides?
Steam Community Marketplace will add a 10% game fee and a 5% Steam fee to the price sellers set. To avoid these fees, buyers and sellers often complete their trade as gifting between "Steam friends" or through third-party websites.
While these platforms provide some form of security, granting full third-party access to your Steam account with tradable assets is risky. A well-known platform CSMoney was hacked and items worth an estimated $1.6M were stolen. 
Equally risky is your "Steam friend" gifting you a skin who may get your payment but never deliver the "gift" or send a low-value item. High fees and conditional withdrawals add to the already risky game.
Platform to buy/sell in-game assets & accounts
Fee(s)
Deposit & Withdrawals
Steam Community Market
5% Steam commission + 10% game-specific fee is paid by the buyer.
Sellers receive funds to their Steam wallet and cannot withdraw as real money (for inside use only).
CSMoney
CSMoney commission is 7% – 4% (with Prime subscription)
Buyer tops up the in-app wallet before purchasing. Payments cannot be withdrawn as real money but are spent internally.
PlayerAuctions
Seller pays transaction fee per sale (9.99% – 12.99% based on the type of sale: currency, in-game assets, accounts, power levelling)
Buyer pays 4.75% + $0.29 (3% + $0.29 for crypto)
Disbursement fees (3.5% – 4%) based on the selected disbursement method. Withdrawals can take between 1 – 31 days depending on after-sale protection, product type, and seller level.
Skinport
12% – 6% (for high-value items and on private sales) off the selling price.
Buyers pay by selecting from available payment methods Withdrawals can be made only via bank transfer.
DMarket
Sellers pay 7% commission per sale
Buyers deposit and sellers withdraw funds through their DMarket accounts (Skrill, PayPal, crypto)
Tradeit.gg
Sellers pay 2% + $0.05 for bot-trading and 60% (!) + $10 for instant trading
Buyers can top-up and pay through internal wallets or choose available payment methods. Sellers can withdraw using available methods.
Zenland escrow contracts walkthrough [screenshots]
As a safe and trustless alternative to high-priced platforms for selling in-game assets and gaming accounts, Zenland
does not require a Steam login or middleman. Users trade their items directly (without auctions at this point) through escrow contracts. These contracts and payments are stored on the blockchain and managed by the two users through a simple UI. Once fulfilled and inspected, the payment is released from the contract directly to the seller's cryptocurrency wallet (not the in-app wallet) by the buyer.
The service fee starts from 1.75% of the contract amount and decreases as the contract amount grows.
Note that all contract operations are blockchain transactions that have their gas fees paid by the users to blockchain networks. The breakdown of contract costs and Zenland fees can be found here.
To see how gamers use Zenland contracts follow our use case for in-game asset workflow below.
Contract terms
Details
Contract participants
Ari, the current owner (the seller),
Bono, the future owner (the buyer)
Object of sale
Immortal shoulder | Avowance of the Crimson Witness
Due date
December 23, 2022 22:24
Selected network
Goerli Test Network
Agreed amount
159 USDC
Buyer protection time
24
Zenland fee
$2.78 (paid by Ari)
Step 1. Ari logs in with Metamask wallet address (anonymous web3 login)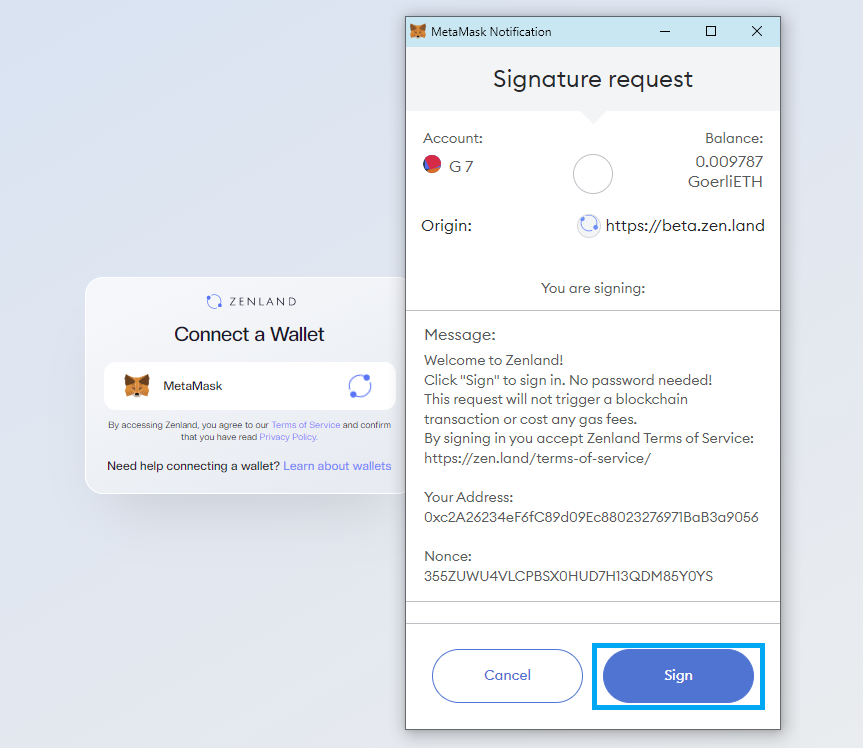 Step 2. Ari adds an item to the profile and sends the link to Bono
To add an item:
1. Ari clicks "My Items" from the left panel
2. Clicks "Add Item"
3. Provides item name, description, delivery time, and buyer protection time. Then, sets the price, payment method, and currency. Finally marks a website delivery as a one-off product and allows pre-approved contract creation.
4. Shares the URL of the profile with Babu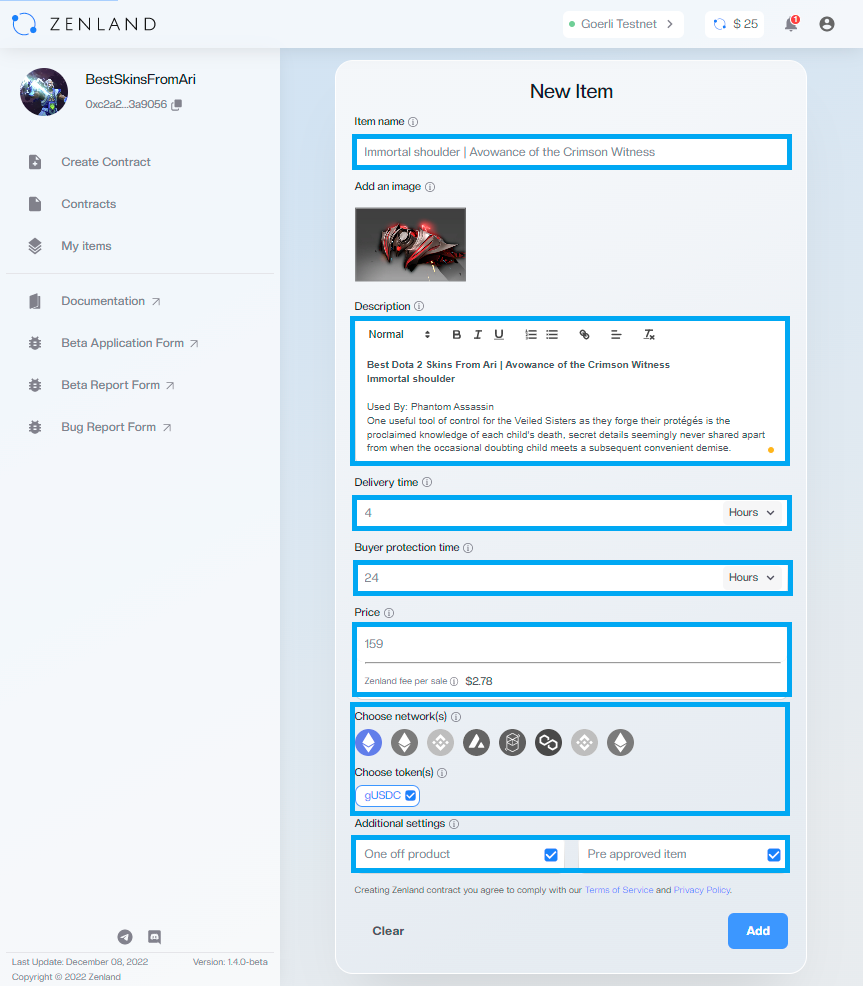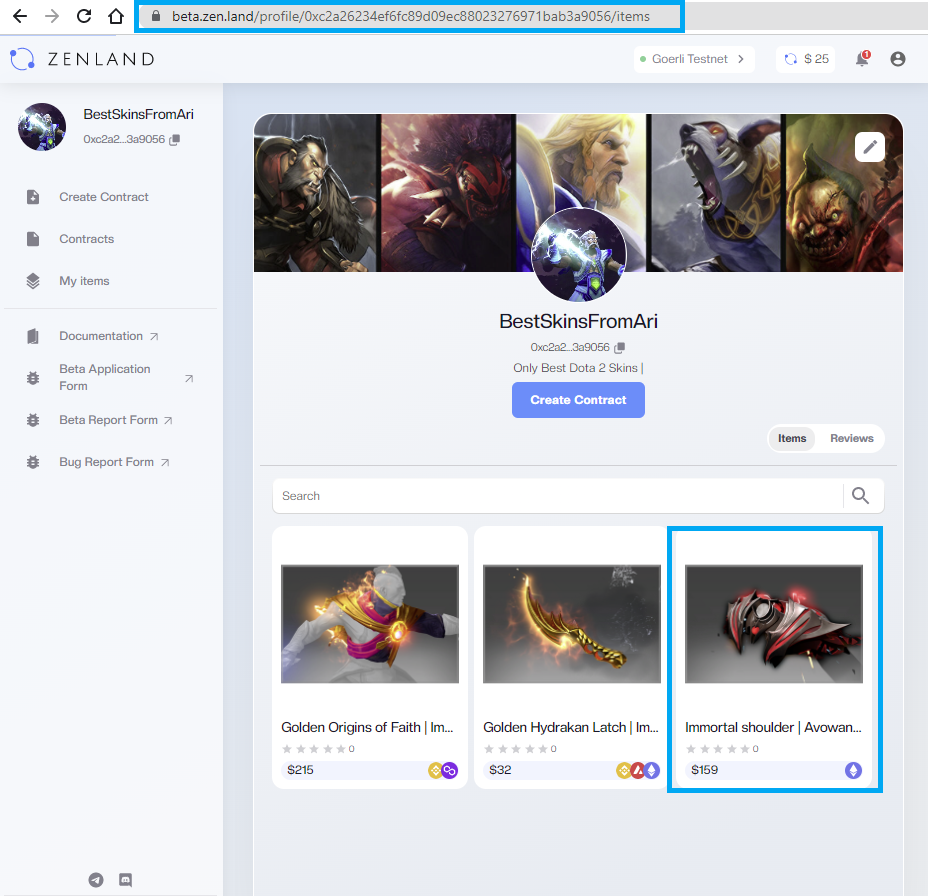 Step 3. Bono selects the item and approves the terms of the purchase
For our example case, Ari only has one payment method and currency so Bono selects what is available. For other skins though Ari has stated 2 and more ways to pay.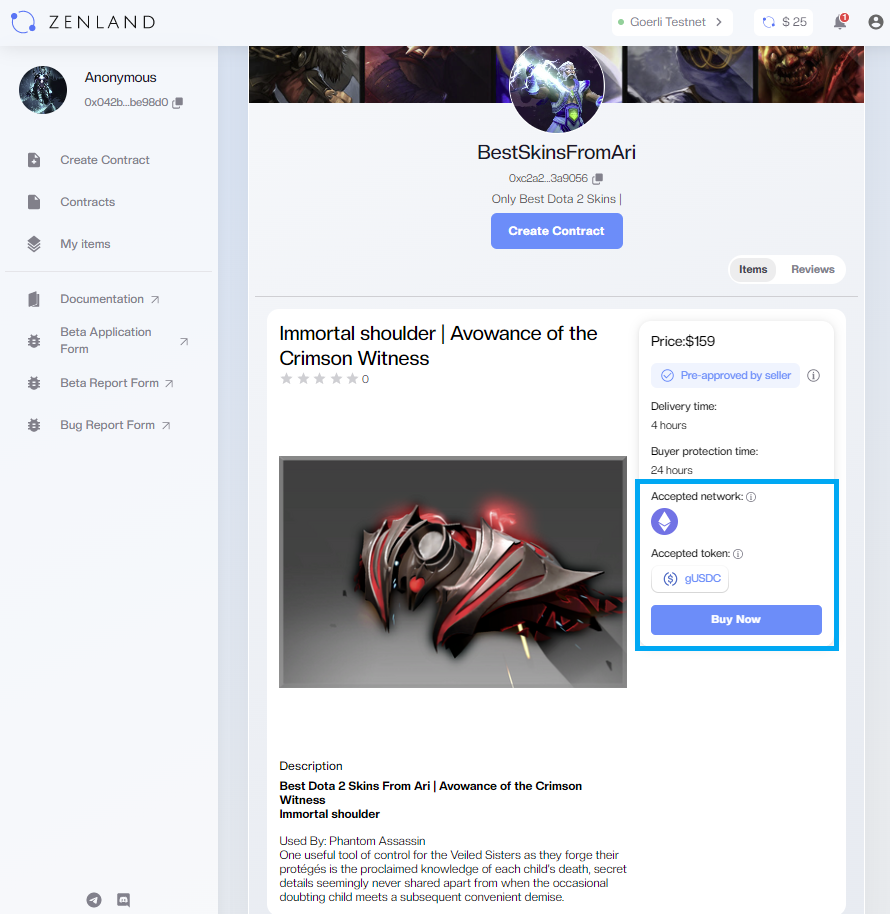 Clicking "Buy" prompts the contract for a particular item. Bono reads the terms and approves the contract.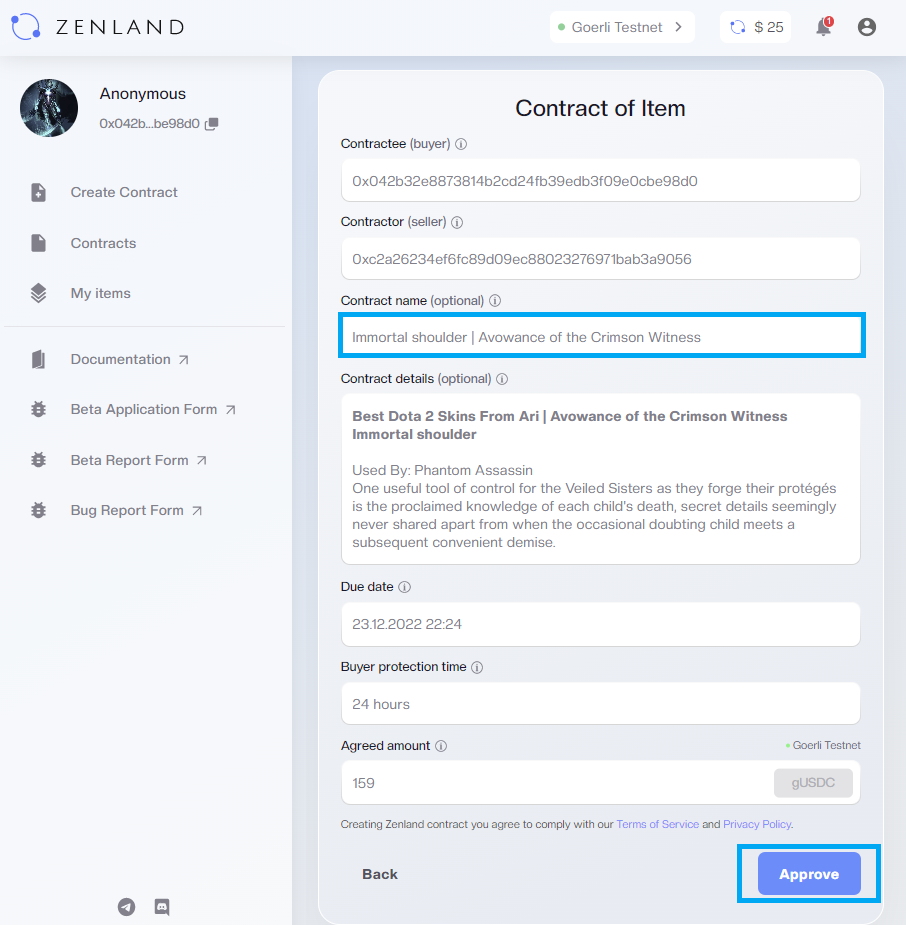 Step 4. Bono sends the contract to the blockchain and locks payment inside
Sending a contract to the blockchain (contract deployment) gives the contract a permanent address. Similar to your Steam inventory where every item has an address, it is a blockchain address where the contract terms and the buyer's payment are stored.
Learn more about smart contracts here.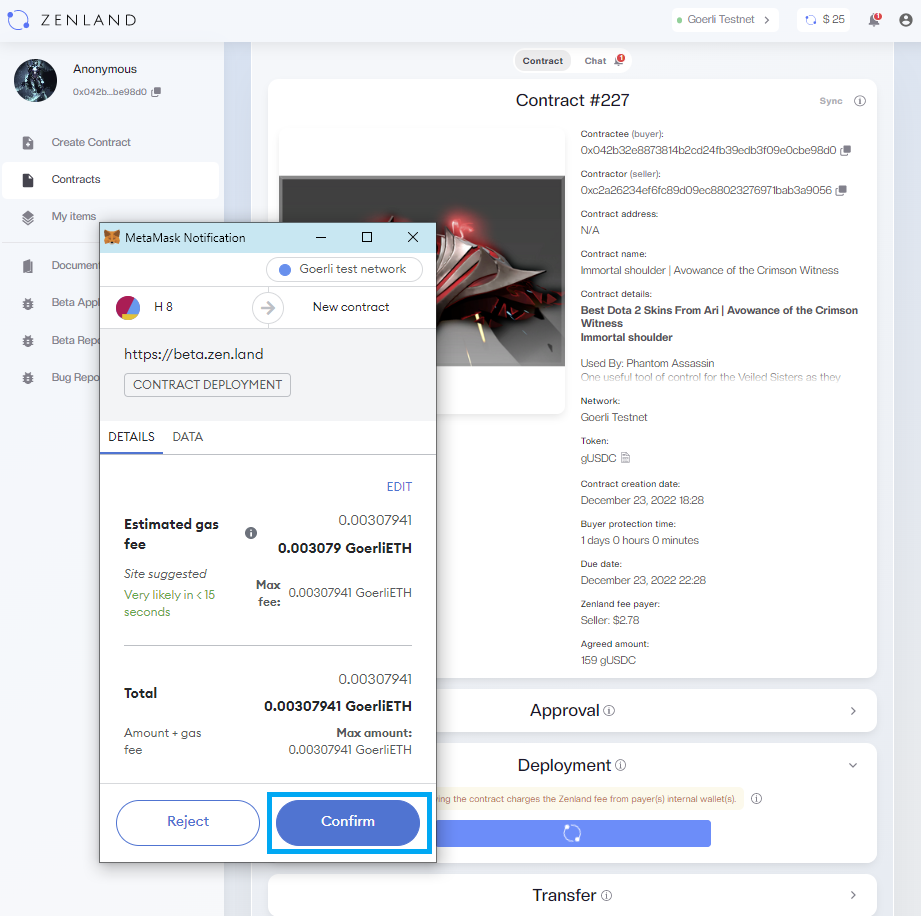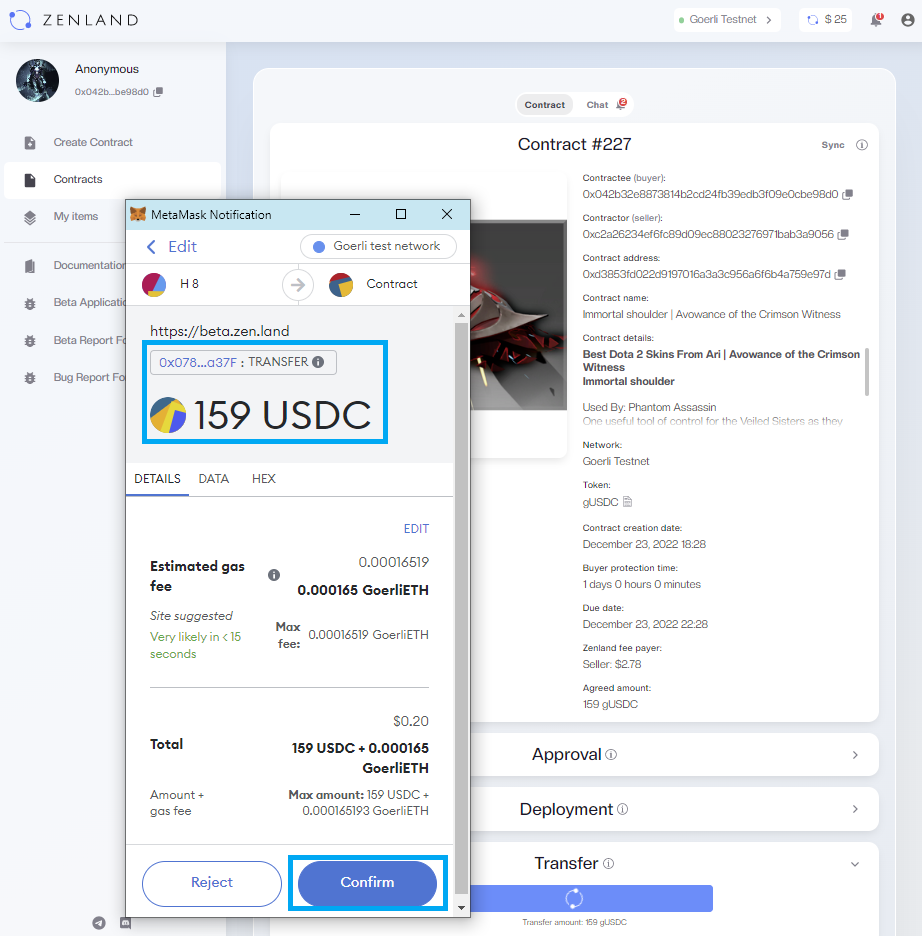 Step 5. Ari sends the skin to Bono and confirms the completion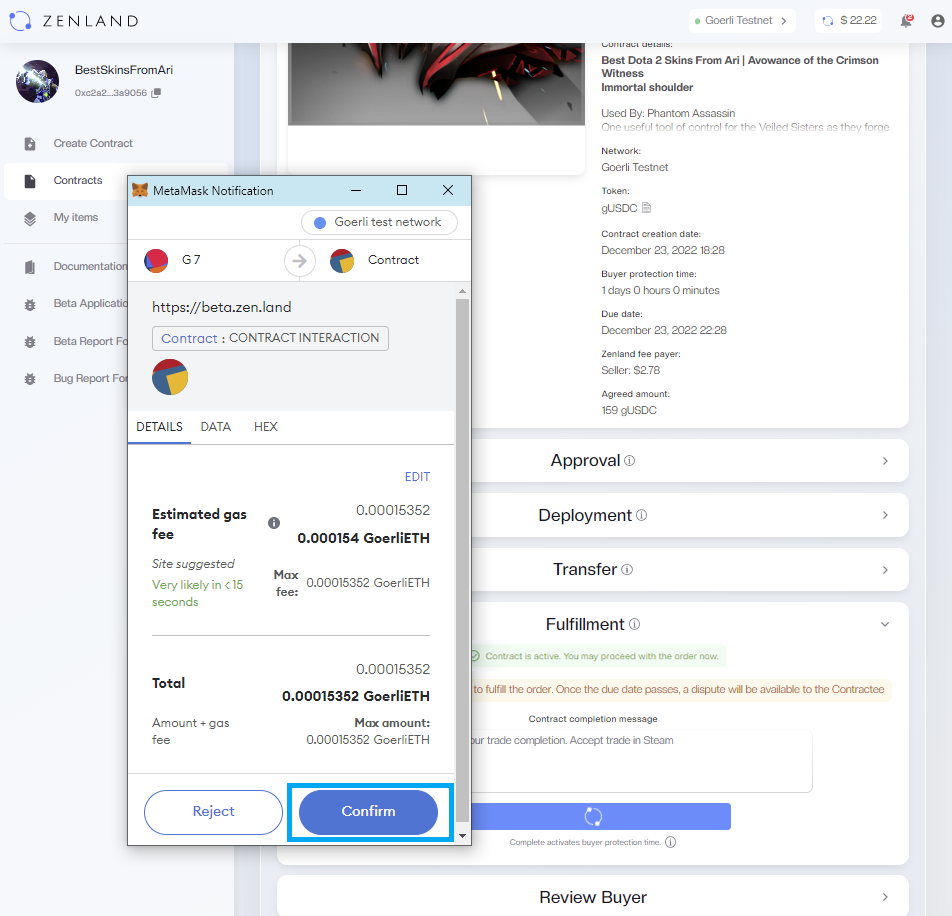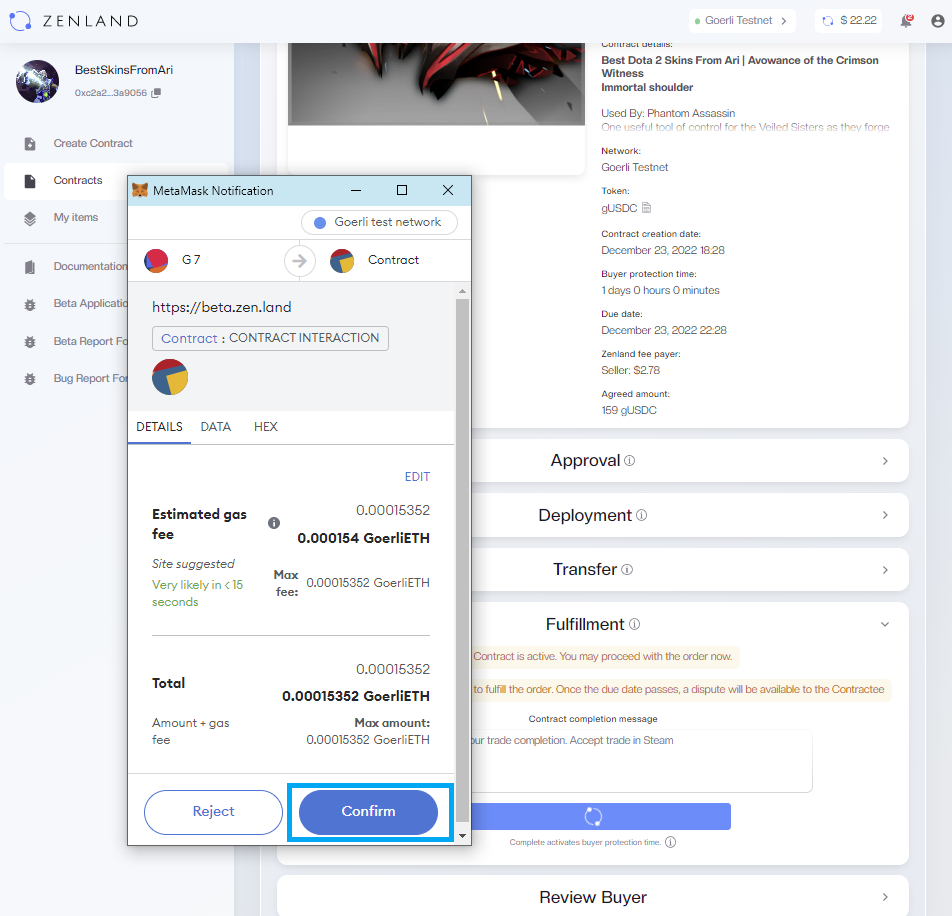 Meanwhile, both users can message anonymously about their order in the chat linked to their contract.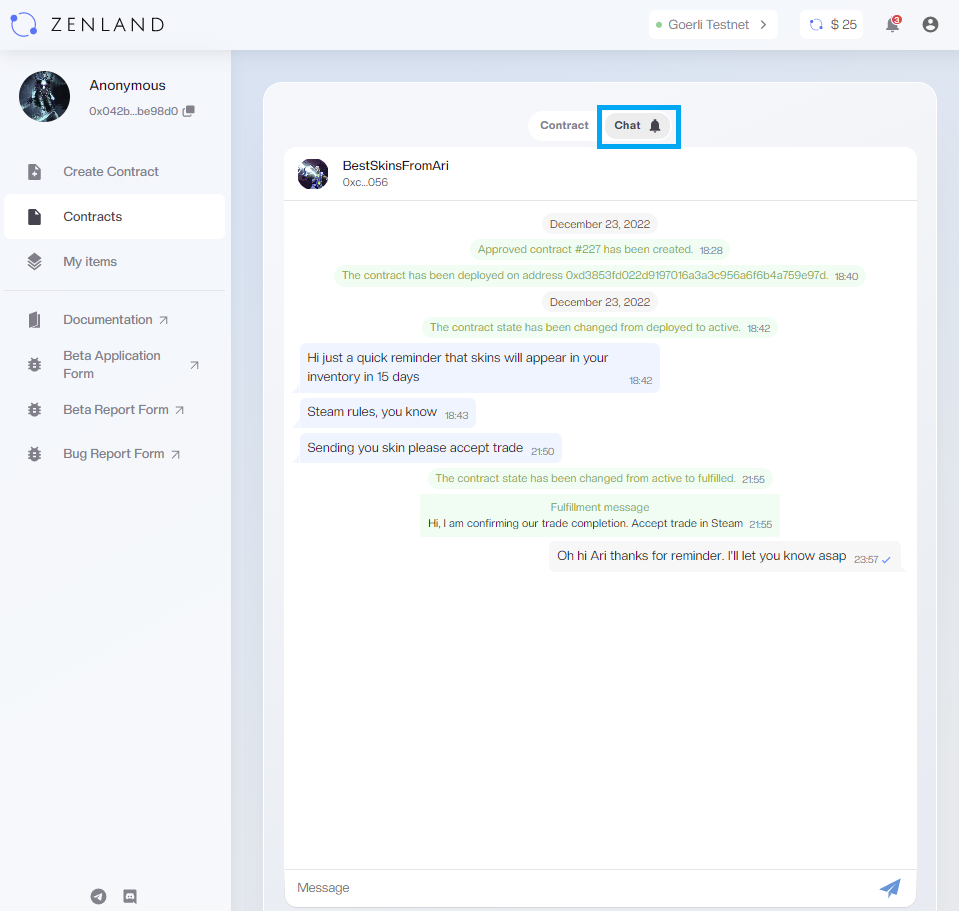 Step 6. Bono inspects and releases payment from the contract to Ari
Bono will have time to inspect the skin before releasing Ari's payment from the contract. You can learn more about how buyer protection time works.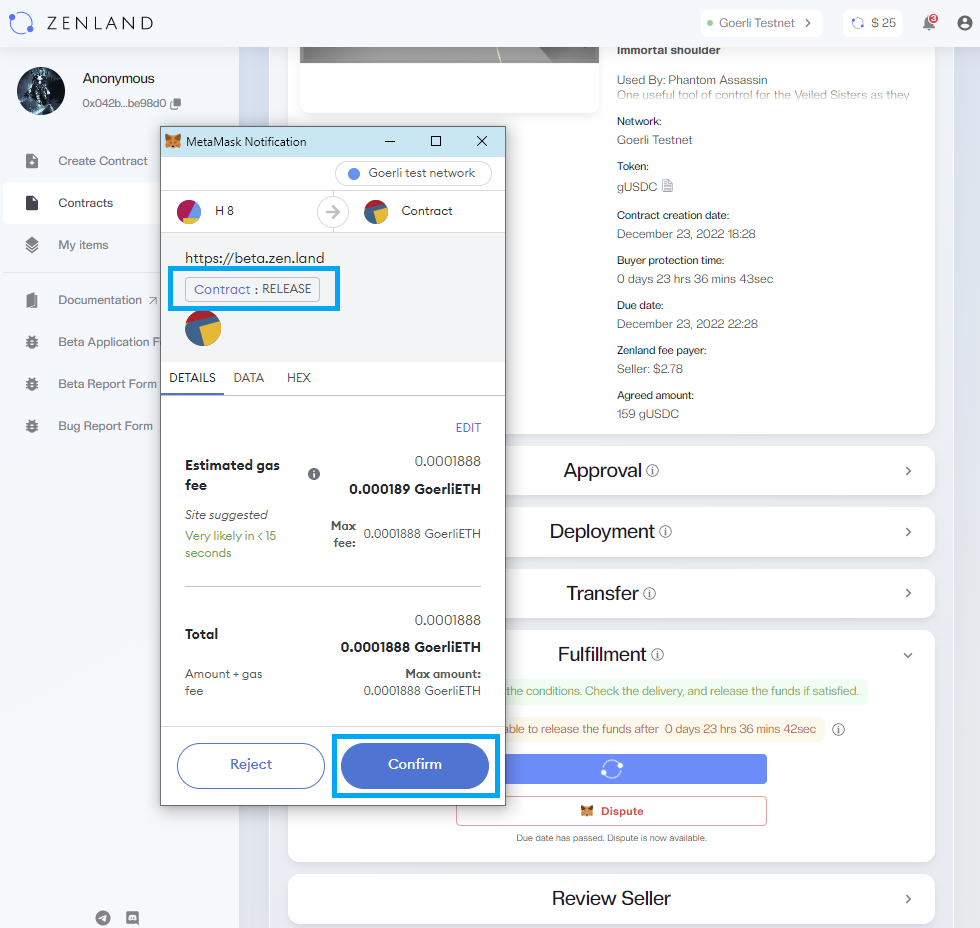 Step 7. Ari and Bono rate and review each other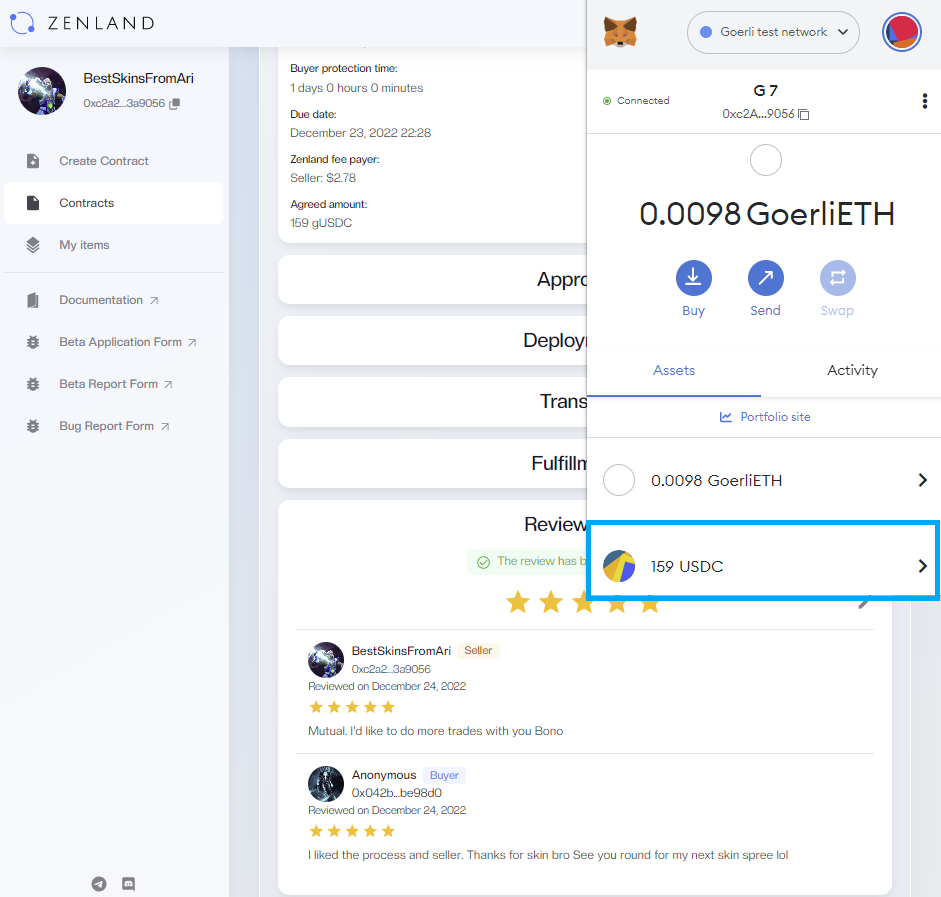 Want to see for yourself?
Currently, we are giving $1 to new users. Once logged in you should see a $1 balance on your dashboard to fully cover the service fee for contracts worth $50 or less. All users (buyers & sellers) are welcome to try escrow smart contracts.