Imagine you've built and grown a high-ranking website that generates $6K – $10K annual net profit. Now you want to sell it to make a new one. A quick look at Flippa reveals that high-ranking .com websites with a 7-character name and 2K page views a month may cost anywhere between $10K and $40K depending on multiple site metrics. Not the money you would want to lose, right?
Why is flipping websites still a problem?
Building and selling websites for profit can be tricky. Selling sites through marketplaces like Flippa you pay a hefty service fee (see details in the table below). Yet selling through forums or Facebook groups without a broker or middleman you risk losing 100%.
Platform to buy/sell websites
Fee(s)
Flippa
10% success fee per sale +
$49 listing fee
Empire Flippers
15%
Motion Invest
20%
FE International
10% – 15%
Zenland escrow contracts walkthrough [screenshots]
With the escrow smart contracts, we built any sale or purchase is done under blockchain protection and without a middleman or hefty commissions. The service fee is 1.75% on sales below 10K.
A sample case below illustrates what the actual process of selling or buying a website through the Zenland escrow contracts looks like. While this is a test case that has been executed on test networks for a demo, the process is no different for real cases executed on main networks.
Contract terms
Details
Contract participants
Andy the current owner (the seller),
Babu, the future owner (the buyer)
Object of sale
levelup.com website
Due date
December 20, 2022 04:34
Selected network
Goerli Test Network
Agreed amount
12 000 USDC
Buyer protection time
24
Zenland fee
$205 (paid by Andy)
Step 1. Andy logs in with Metamask wallet address (anonymous web3 login)
Don't know how to use Metamask? Browse the Third Party Wallets category to learn more about alternative payments with cryptocurrency wallets.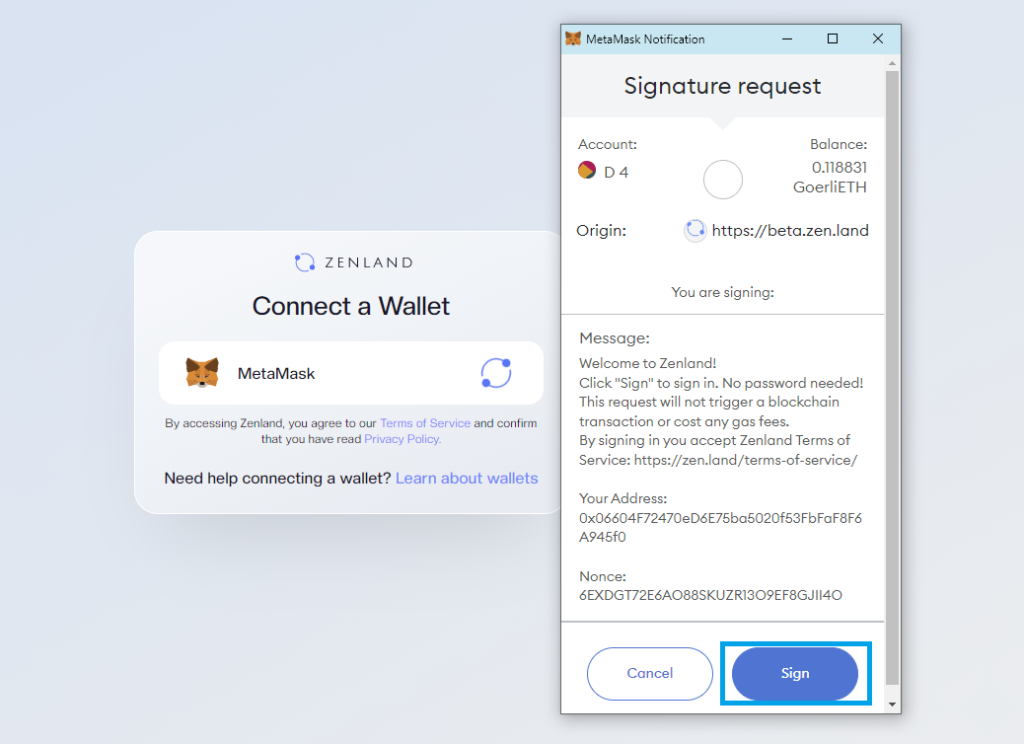 Step 2. Andy adds an item to the profile and sends the link to Babu
To add an item:
1. Andy clicks "My Items" from the left panel
2. Clicks "Add Item"
3. Provides item name, description, delivery time, and buyer protection time. Then, sets the price, payment method, and currency. Finally marks a website delivery as a one-off product and allows pre-approved contract creation.
4. Shares the URL of the profile with Babu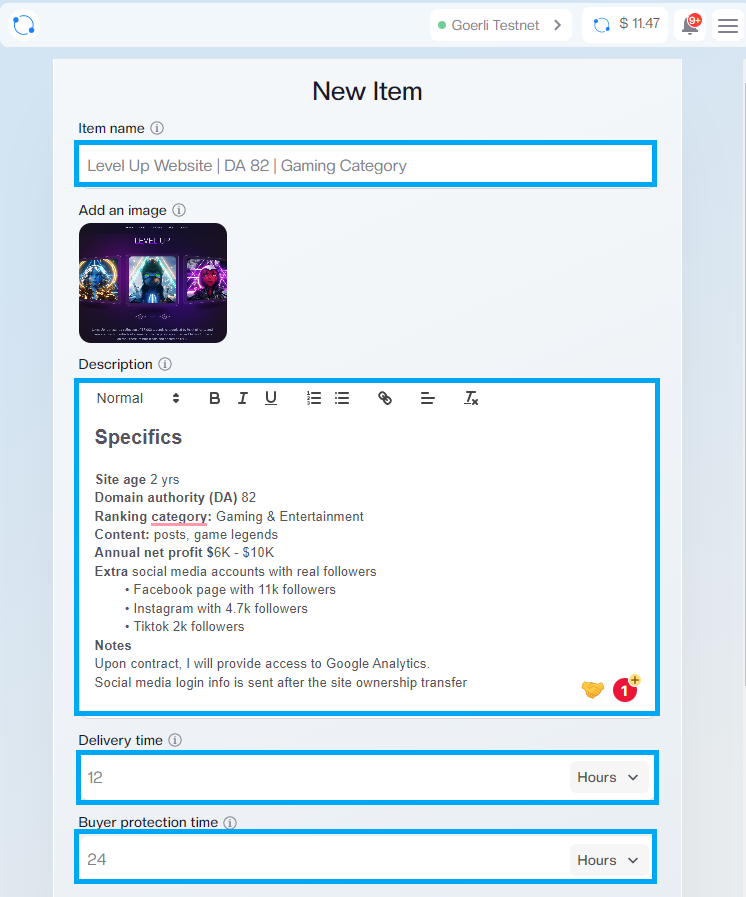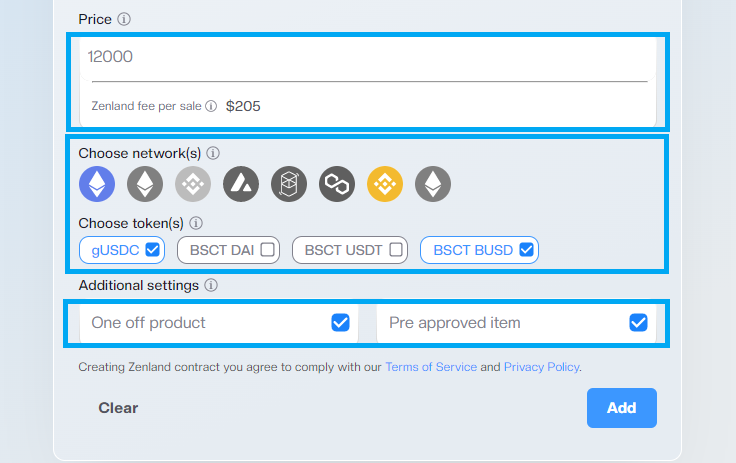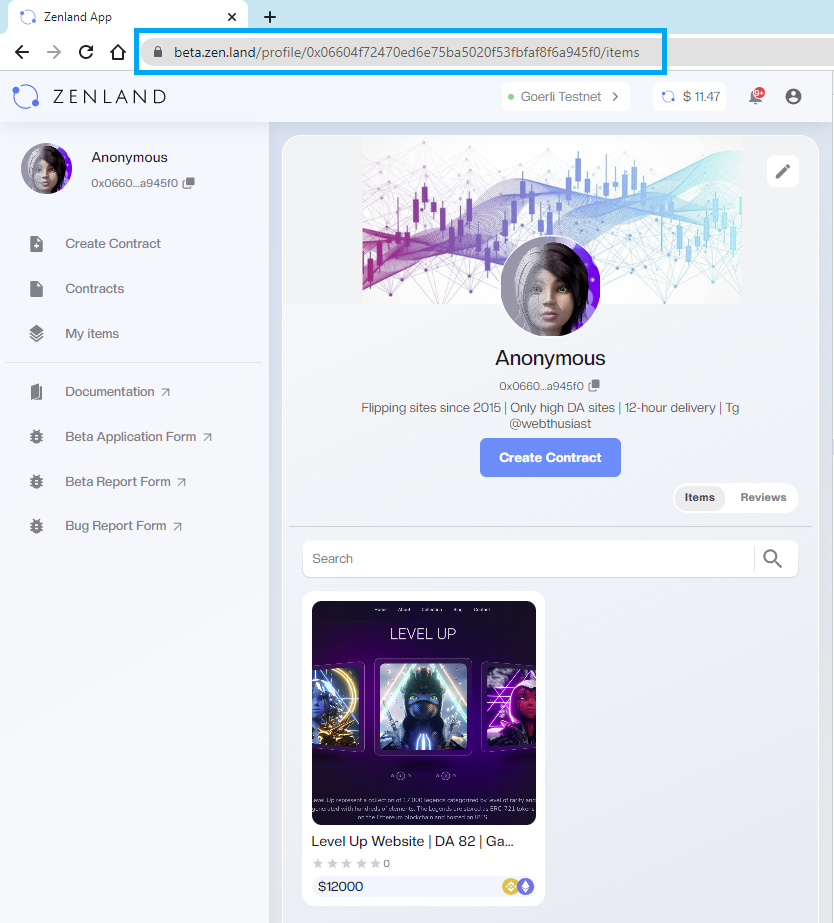 Step 3. Babu selects the item and approves the terms of purchase
Andy allowed both Ethereum and Binance testnets, so Andy can choose between the 2 networks and their tokens.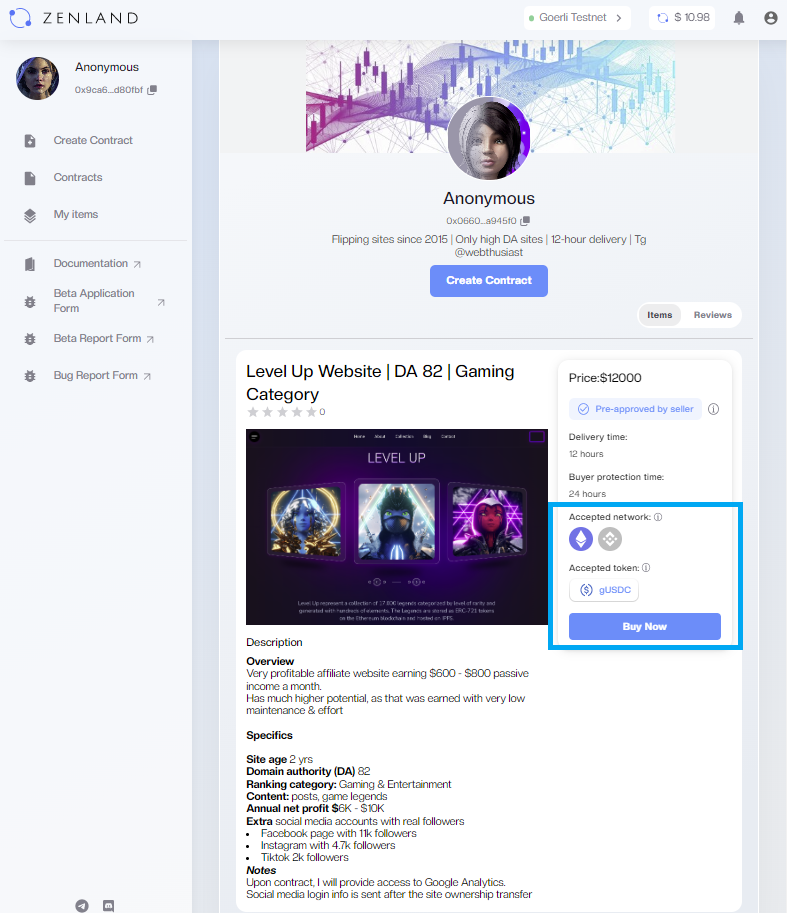 Step 4. Babu sends the contract to the blockchain and locks payment inside
Sending the contract to the blockchain, also known as contract deployment, is similar to entering data into the blockchain database. It gives the contract a permanent address where the contract (and payment inside it) is stored.
Read more about contract actions and contract states.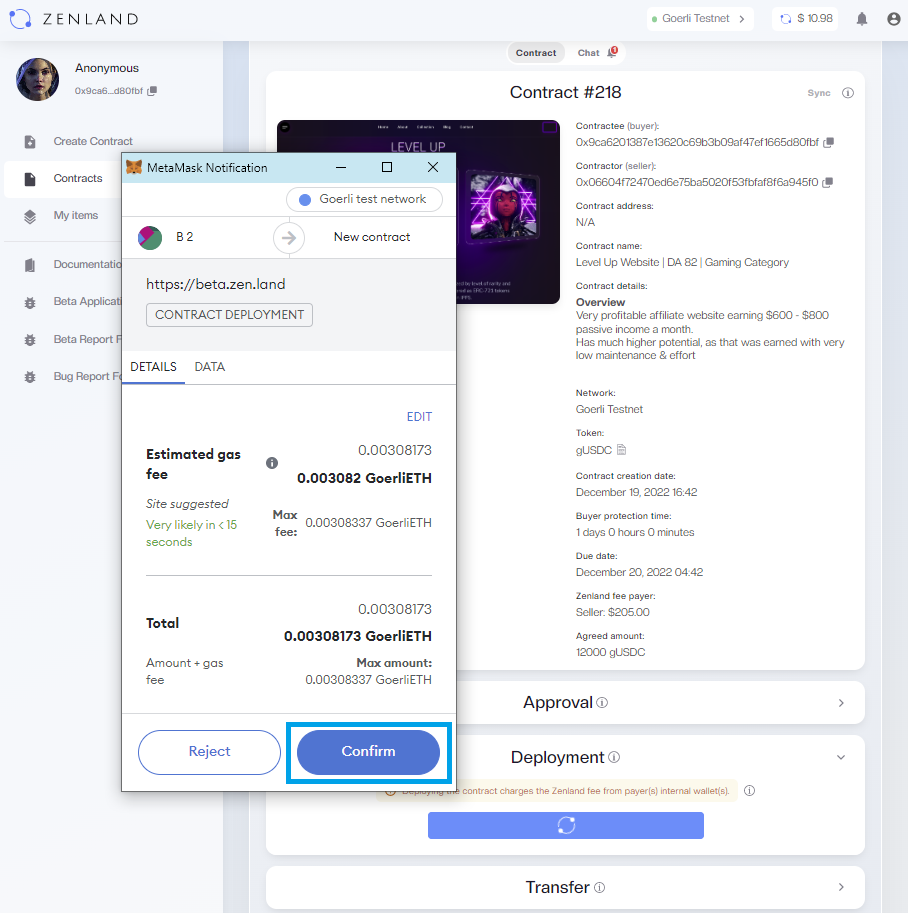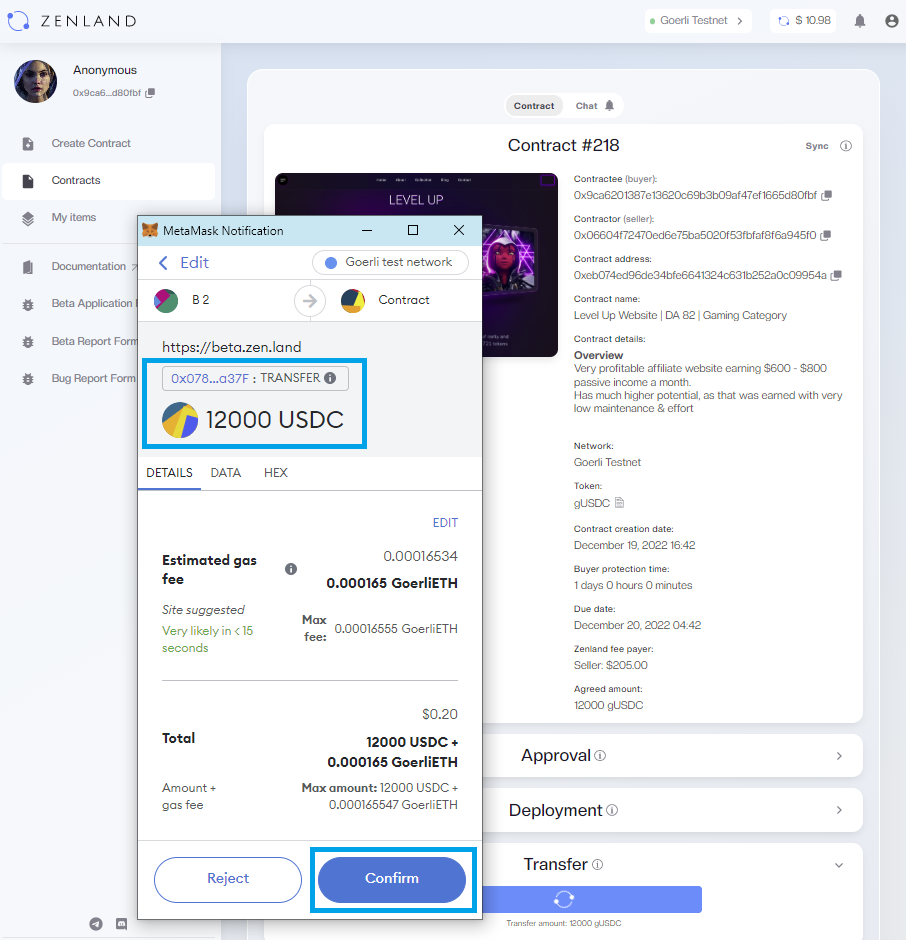 Step 5. Andy transfers website ownership and confirms the fulfillment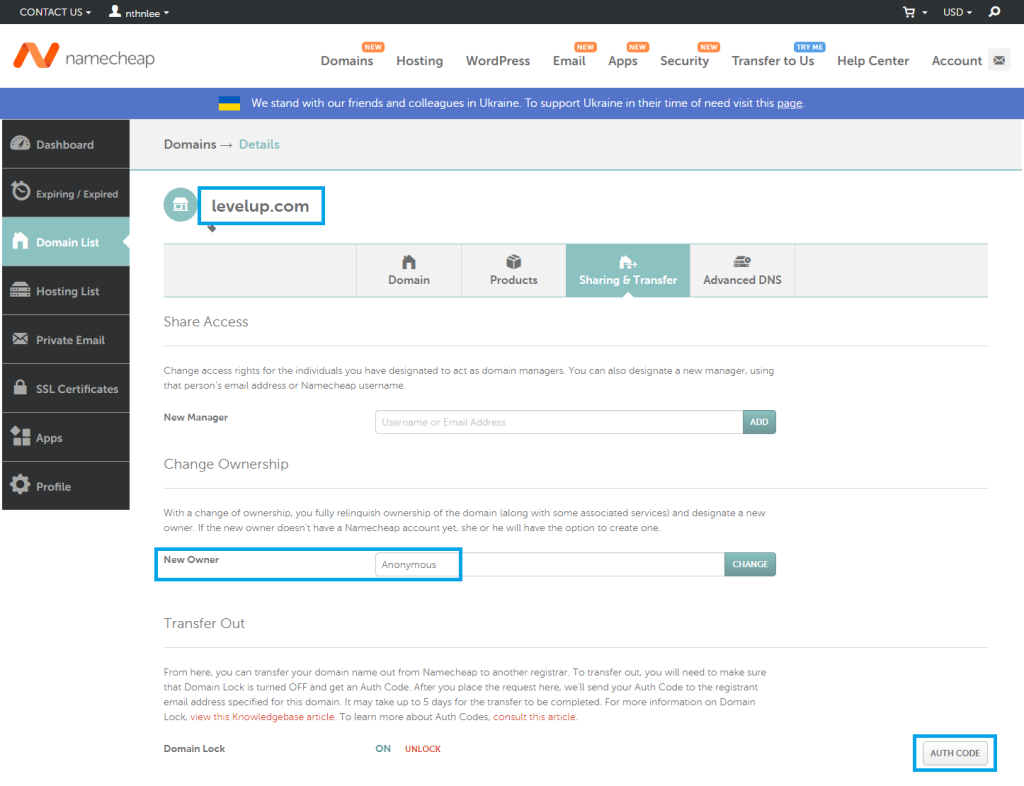 Meanwhile, Andy and Babu communicate via an anonymous chat linked to their escrow contract, a.k.a contract chat.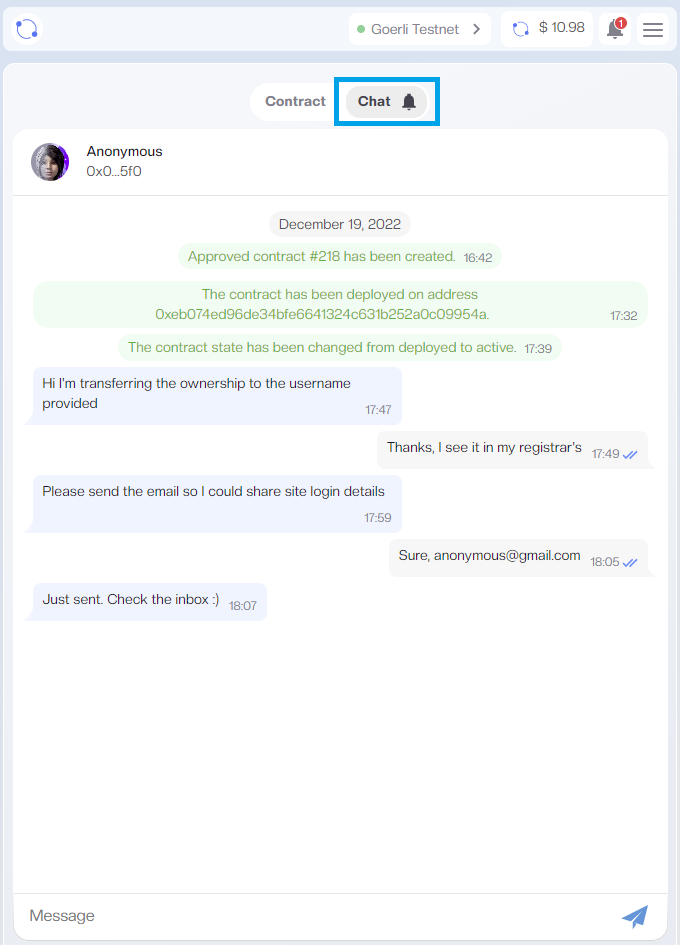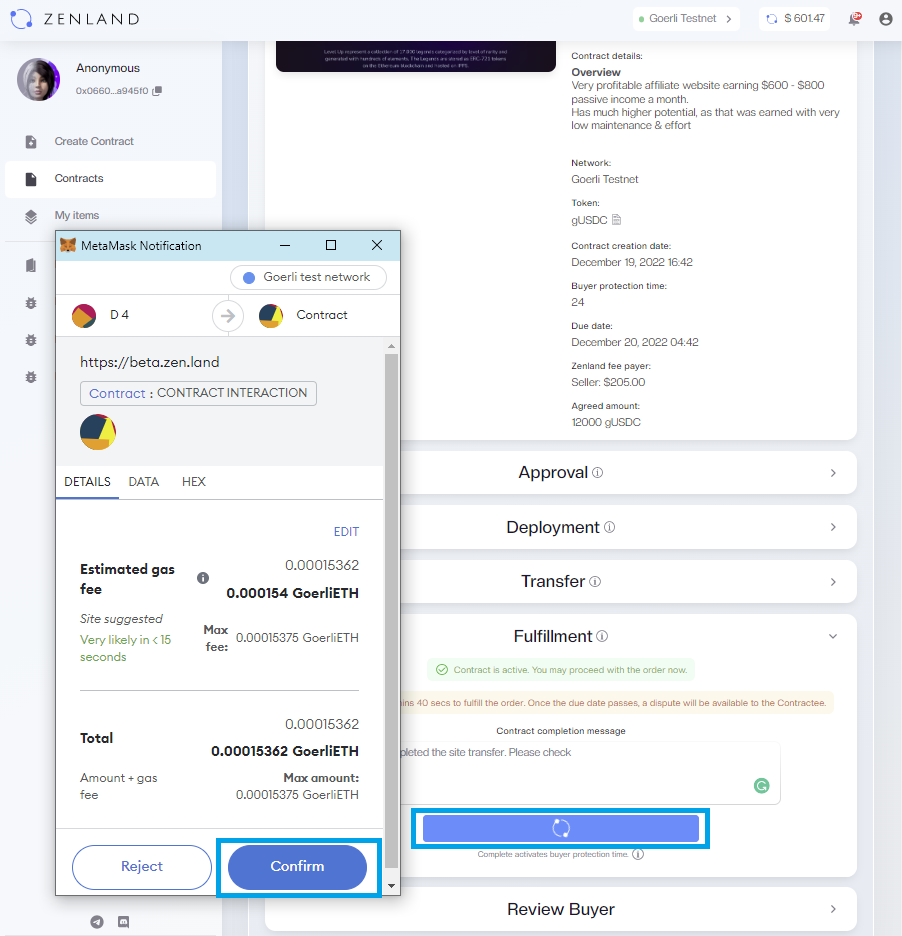 Step 6. Babu inspects and releases payment from the contract
Once the website ownership transfer is complete, Babu has 24 hours (buyer protection time Babu and Andy agreed to in the terms) to inspect it and unlock payment from the contract. If unhappy about the purchase Babu can dispute it with Andy. More information about dispute resolution is under the Escrow Disputes category.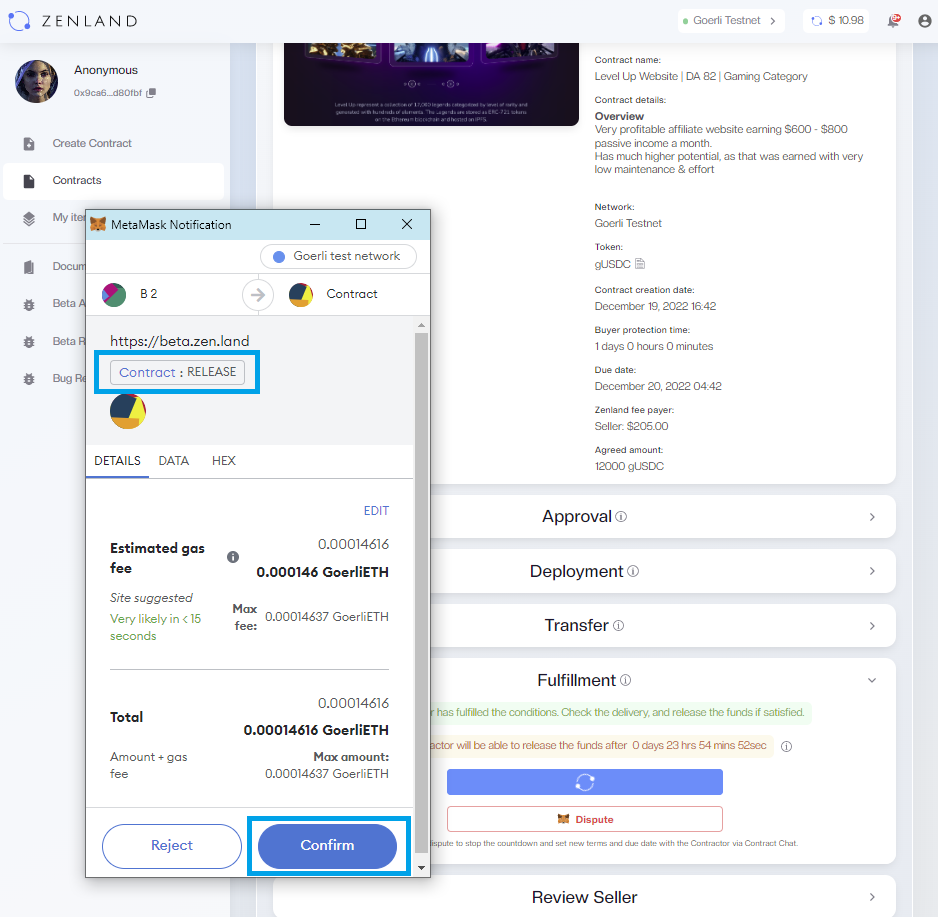 Step 7. Andy and Babu rate and review each other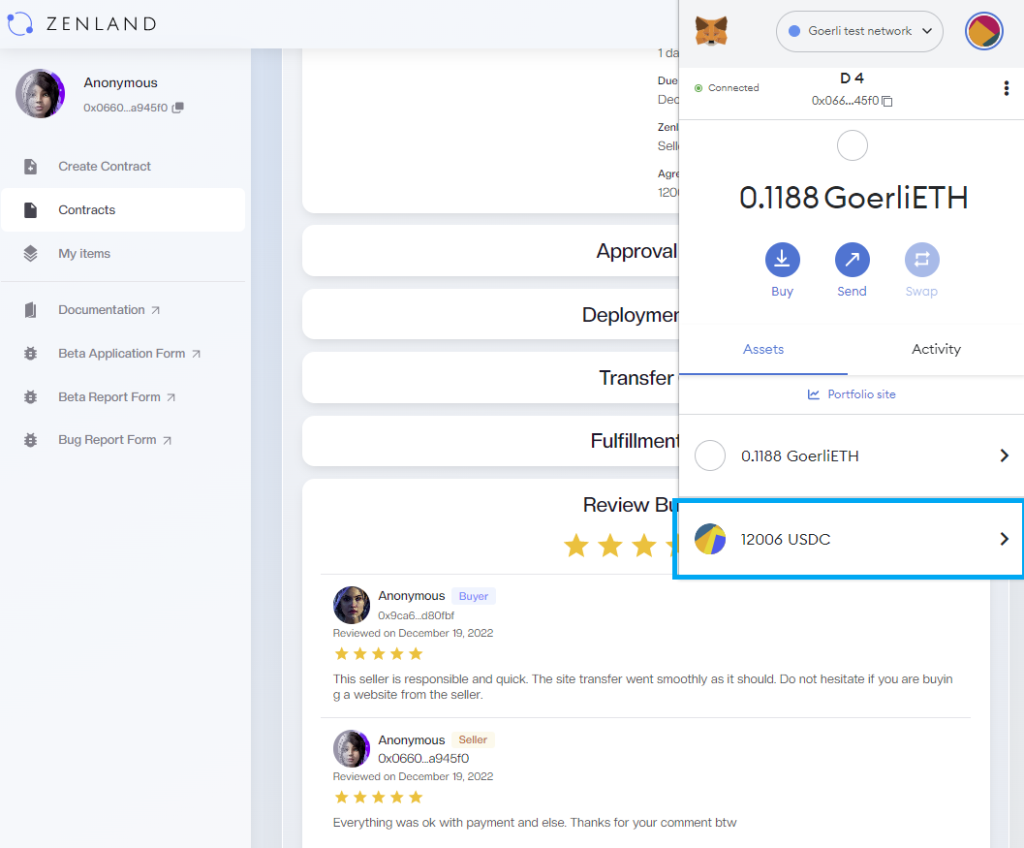 Want to see for yourself?
Currently, we are giving $1 to new users. Once logged in you should see a $1 balance on your dashboard to fully cover the service fee for contracts worth $50 or less. All users (buyers & sellers) are welcome to try escrow smart contracts.