You are a freelance writer who does professional copies for websites and social media, script, or technical writing. Whatever it is, you are the wordsmith who knows how to turn up a working solution for your clients who find you through Facebook groups, Craigslist, or various forums. As much as you are confident in your copywriting skills, you are uncertain about your clients. After all, no forum, marketplace, or social media group guarantees you get paid.
Why being a freelance writer is tricky?
One of the perks of freelancing is being your own boss who decides which deals to take. On the flip side,
who can you blame for time unpaid when the client turns out to be fake? On top of that, solid fees and "client-is-always-right" policies on popular marketplaces make freelancing less fulfilling and profitable.
Platform to buy/sell services
Fee(s)
Allowed bids
Fiver
Seller pays 20% per sale
Buyer pays a 5.5% fee + an extra $2 on orders under $50
5, 10, and 20 free bids per day for basic, standard, and premium packages.
Upwork
Seller pays 20% – 5% (for gigs >$10K) per sale
Buyer pays 5%
Required 1 – 6 connects to submit a proposal ($0.015 – $0.90) with no guarantee of the deal.
Freelancer
Sellers pay 10% or flat $5 (whichever is greater)
Buyers pay 3% or $3 (whichever is greater)
Depending on paid membership ($4.95 – $59.95/month), from 50 to 1500 bids. Free members can bid only 6 times per month.
People Per Hour
20% – 3.5% (for gigs >$7K) per sale. Buyers pay 10% + $0.70 per sale.
Freelancers get 15 free proposal credits each month. Extra credits cost around $1 per credit.
Guru
Seller pays 9% – 5% depending on the membership plan.
Buyer pays 2.9% per invoice.
10 free bids per month for free members. 50 bids for paid members.
Craigslist
Generally free except for the US and selected Canada areas. There's a monthly listing fee for Gigs ( $3 – $10) and Service ($5) ads.
Users handle contacts they get on their own.
It's clear that as a freelancer you have escaped the dreading 9 to 5 job. But have you escaped the limitations and risks of today's gig market?
Zenland escrow contracts walkthrough [screenshots]
As an alternative to costly freelance marketplaces and risky classified ads websites, Facebook groups, and forums, Zenland escrow contracts are safe, trustless, and affordable. Through a simple UI, the two users (buyer and seller) interact with their contracts (and payment) stored on the blockchain. This ensures blockchain protection for every purchase without external help or influence.
Also, as seen from the analysis above, the majority of platforms charge between 5% and 20% per sale and have limited availability for free users. In contrast, Zenland fee starts from 1.75% per sale and has no additional fees (listing fee, membership plans, etc.).
To get a sneak peek of how Zenland works, follow our contract workflow for a copywriting gig below.
Contract terms
Details
Contract participants
Ava, freelance copywriter (the seller)
Ben, website owner (the buyer)
Object of sale
SEO-optimized web copy | 500 – 1000 words
Due date
December 24, 2022 16:08
Selected network
Goerli Test Network
Agreed amount
235 USDC
Buyer protection time
24
Zenland fee
$4.11 (paid by Ava)
Step 1. Ava logs in with Metamask wallet address (anonymous web3 login)
If you are new to Metamask wallet and payment with cryptocurrency, Third Party Wallets category is a good place to start exploring the opportunity.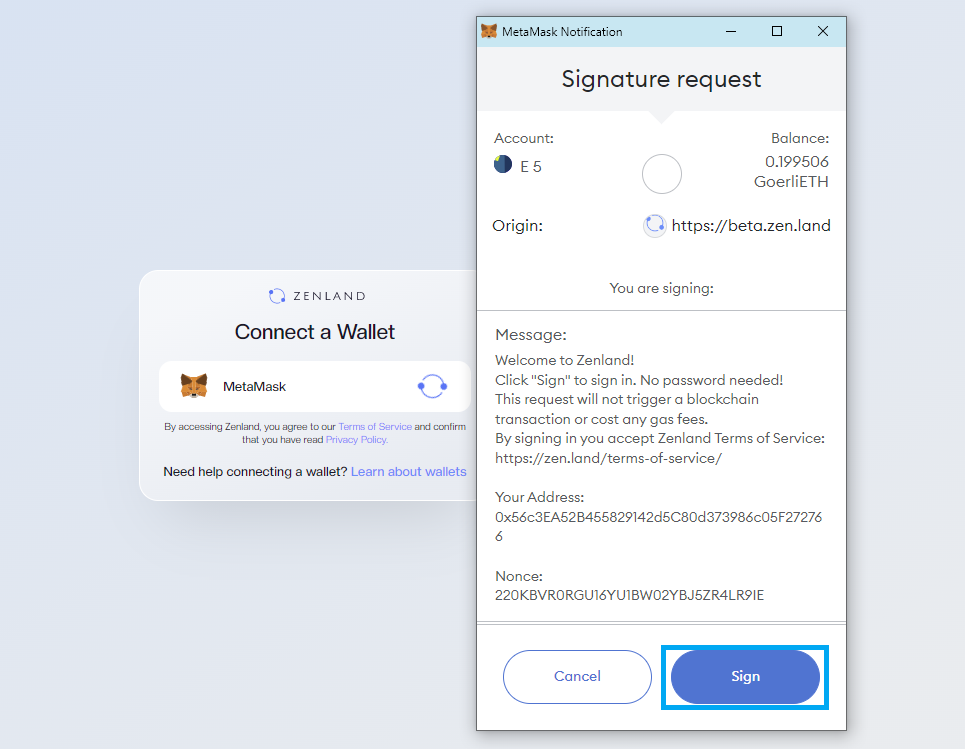 Step 2. Ava adds an item to the profile and sends the link to Ben
To add an item:
1. Ava clicks "My Items" from the left panel
2. Clicks "Add Item"
3. Provides item name, description, delivery time, and buyer protection time. Then, sets the price, payment method, and currency. Finally marks a website delivery as a one-off product and allows pre-approved contract creation.
4. Shares the URL of the profile with Ben.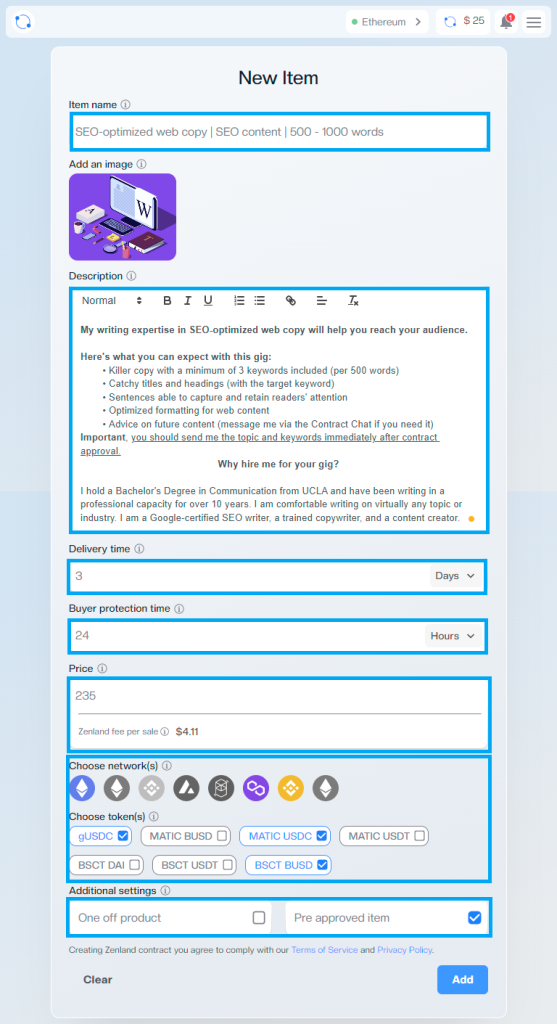 Step 3. Ben selects the item and approves the terms of the purchase
Ava has indicated that she is accepting multiple payment methods (networks) and currencies (tokens) so Ben is free to choose one of them.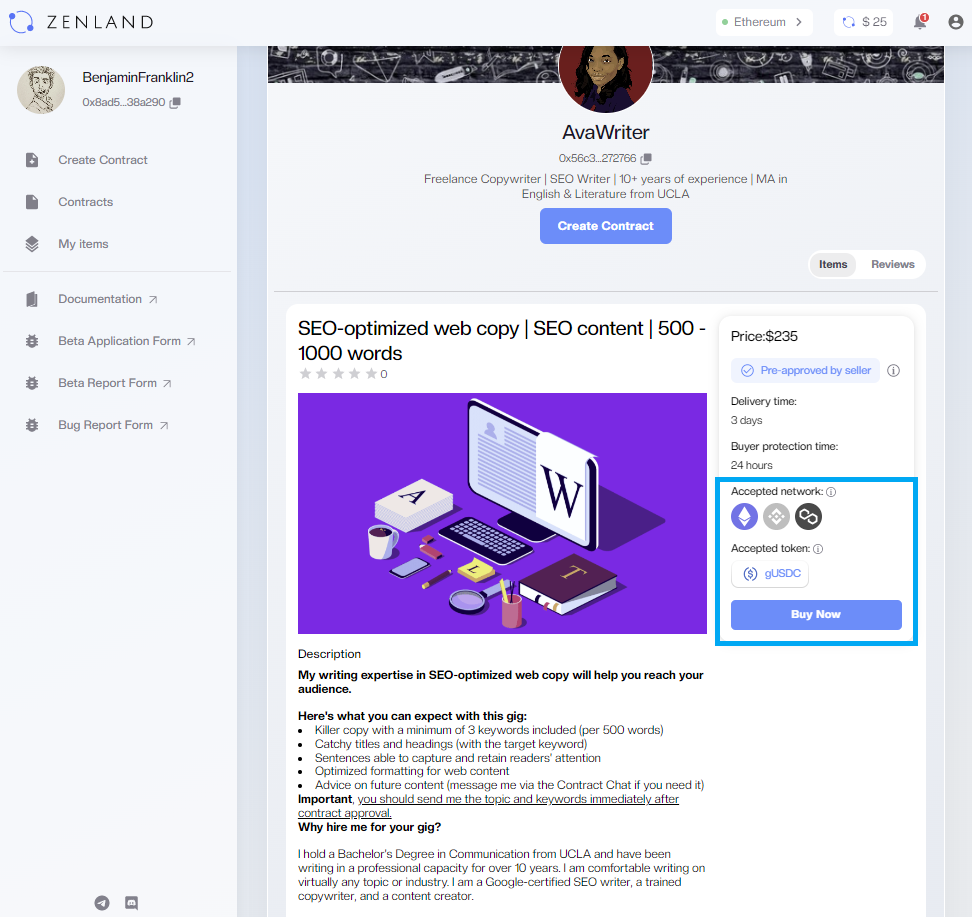 Ben doublechecks the purchasing terms and takes the first contract action – approves the contract.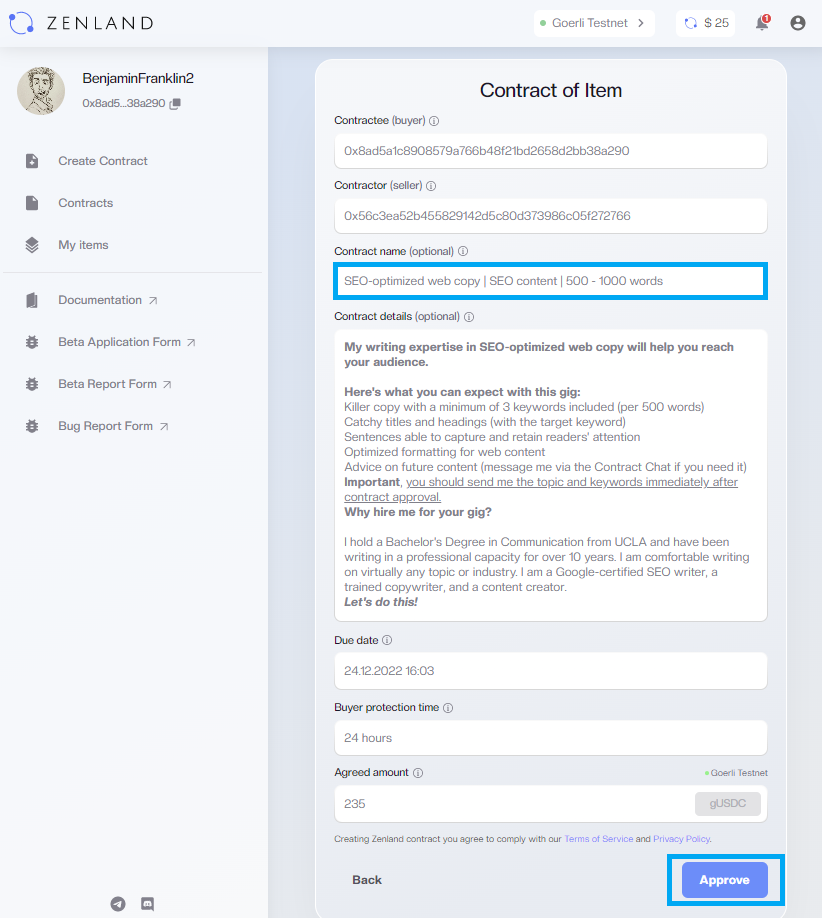 Step 4. Ben sends the contract to the blockchain and locks payment inside
Sending the contract to the blockchain gives it a permanent address inside a specific block. Just like the data assigned a space in the database. Once the contract is there Ben locks the payment inside the contract until Ava sends him the article for inspection.
If interested, read more about smart contracts and how they work.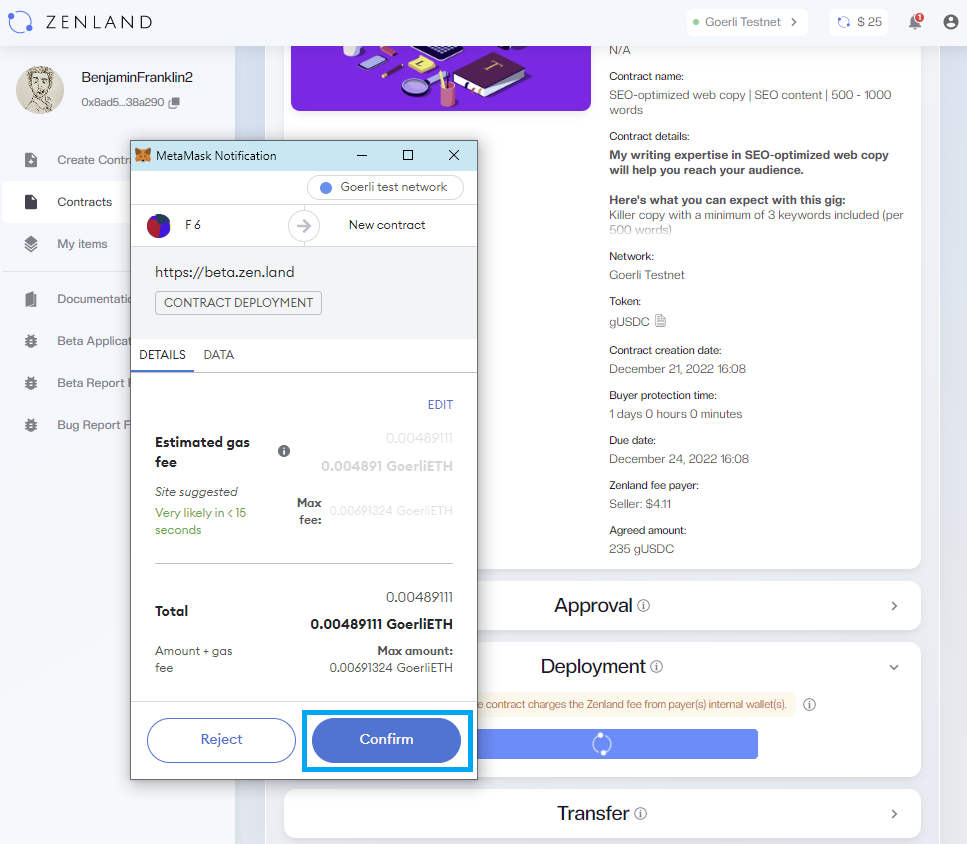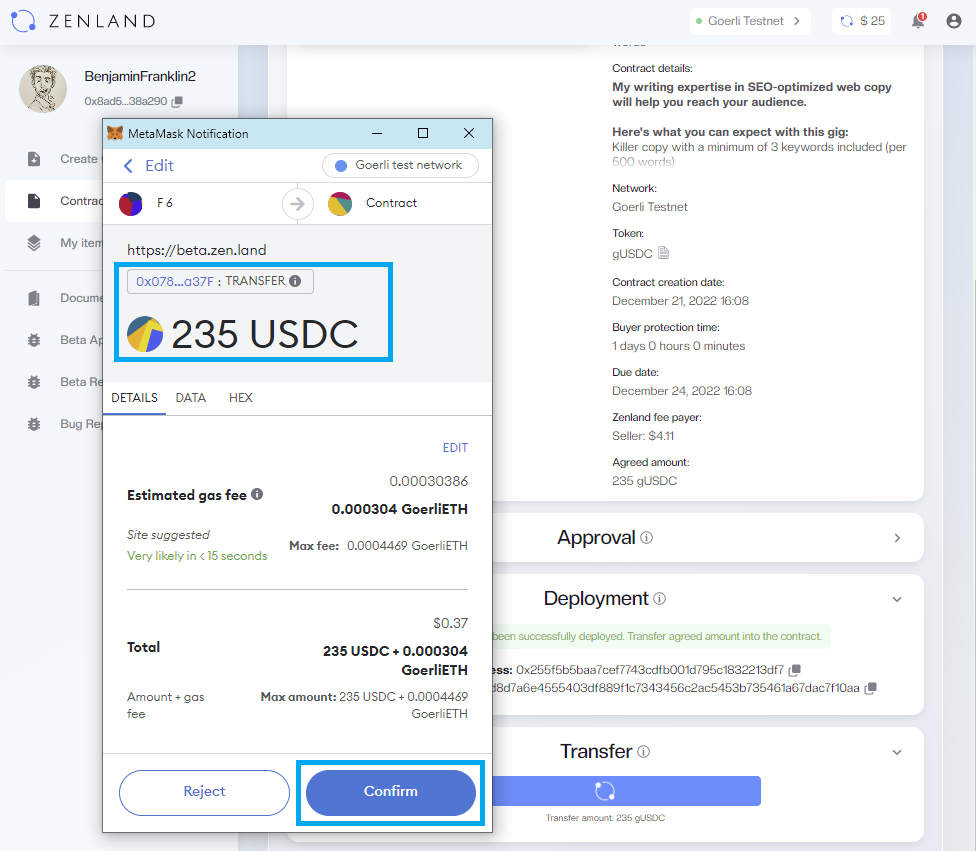 Step 5. Ava sends the article to Ben and confirms the order fulfillment
Ava sees a new contract for SEO writing but finds no keywords or the topic. So she contacts Ben via the contract chat linked to their contract. Ben sends it over and Ava starts writing the article.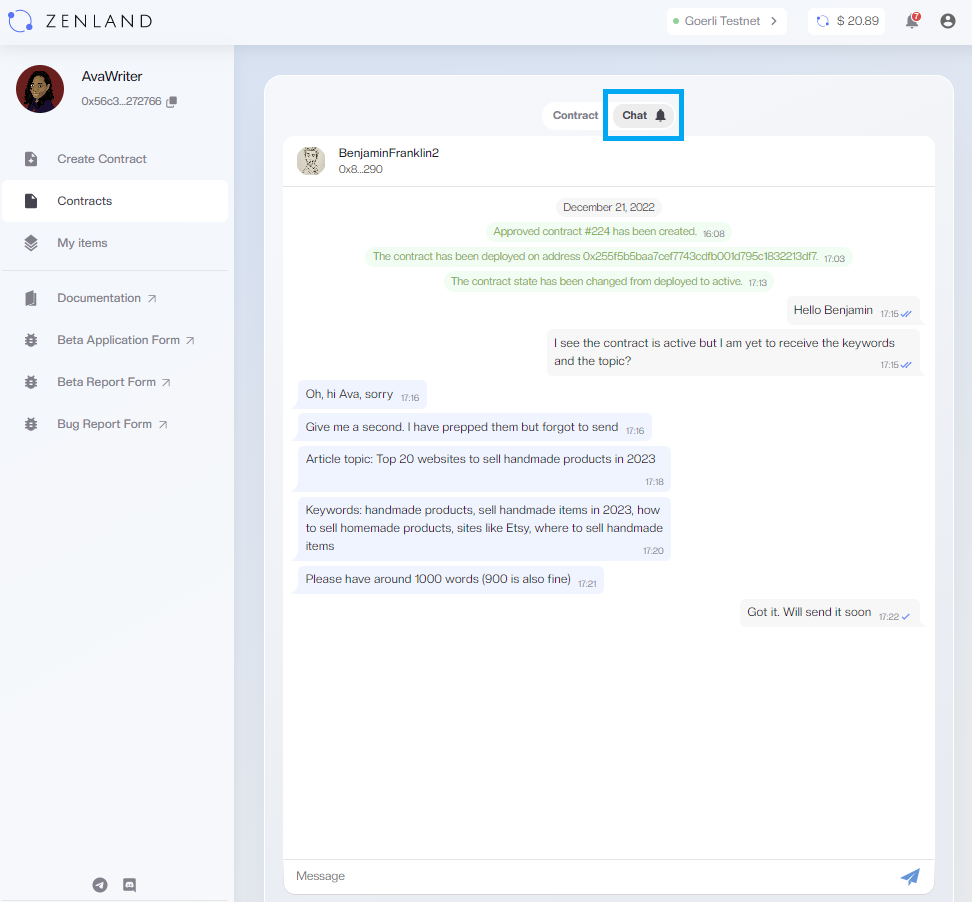 As soon as the article is ready she sends it to Ben. To confirm the contract completion on her part she types in the completion message and clicks "Complete".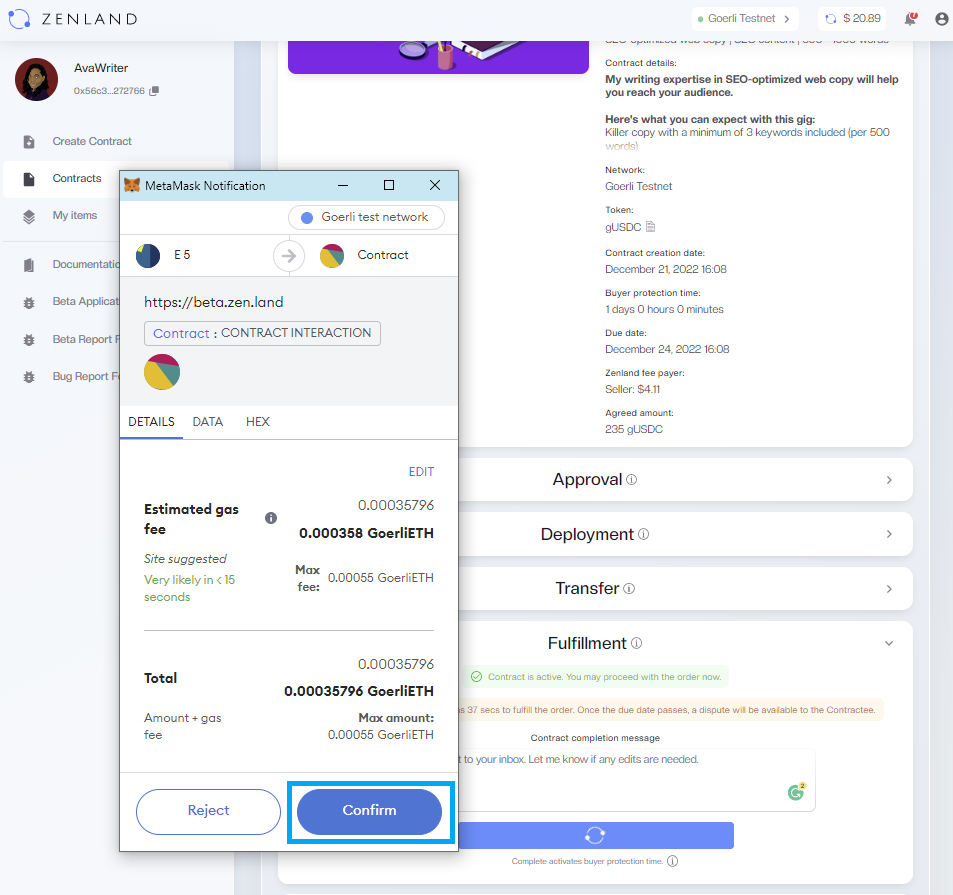 Step 6. Ben inspects and releases payment from the contract to Ava
Ben can also dispute Ava's work if he is not satisfied with its quality. Read the Escrow Disputes category for more information on how disputes are handled.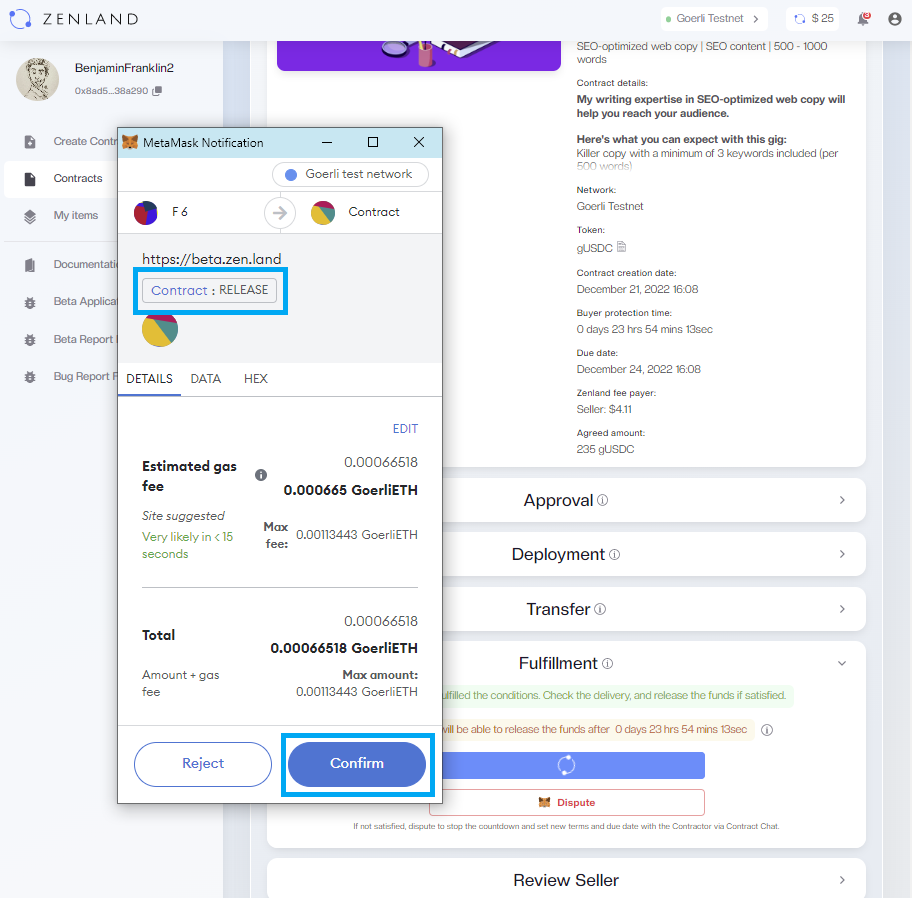 Step 7. Ava and Ben rate and review each other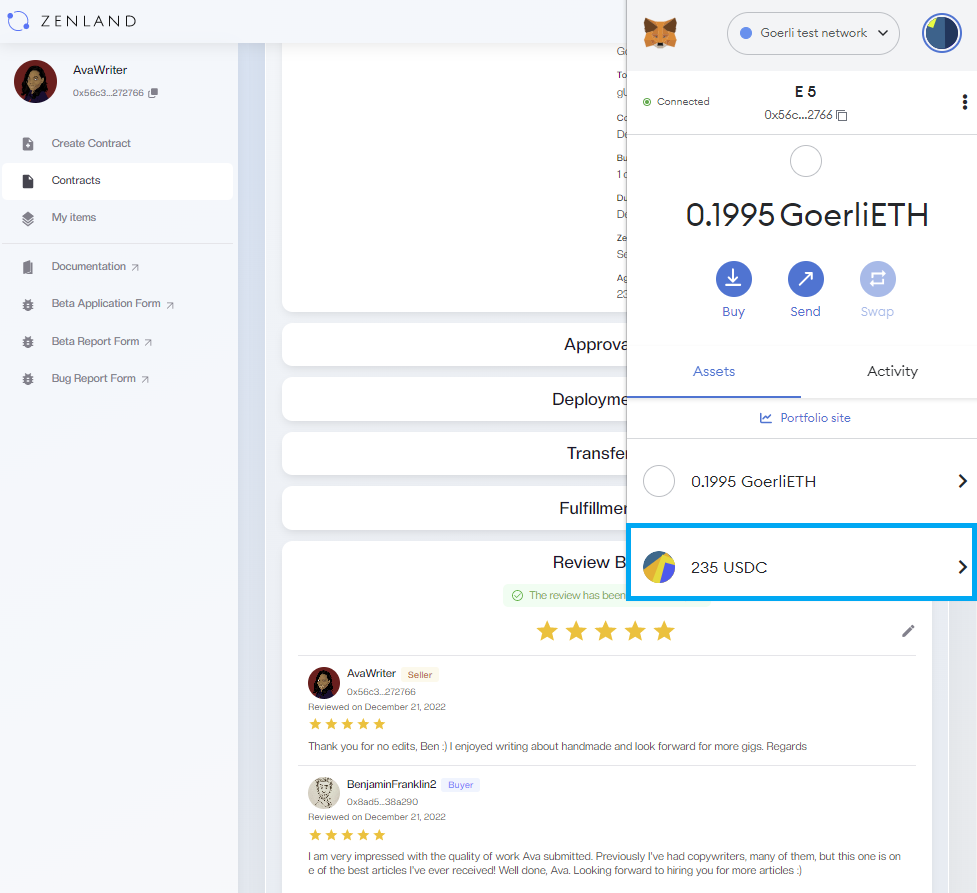 Want to see for yourself?
Currently, we are giving $1 to new users. Once logged in you should see a $1 balance on your dashboard to fully cover the service fee for contracts worth $50 or less. All users (buyers & sellers) are welcome to try escrow smart contracts.